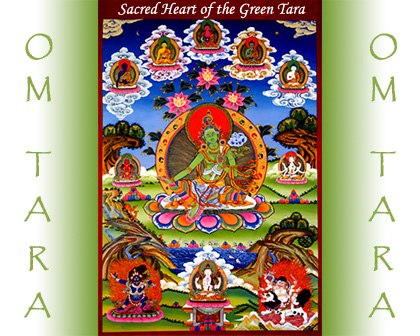 As the Mother of all Healing, the Green Tara shelters All beings in Her Loving embrace and is the Spiritual Bestower of all Health, Upliftment and Well-Being.

The loving embrace of the Goddess Tara radiates outwardly as Kindness, Compassion and Healing for All from worldly or spiritual concerns.

May the powerful blessings of Peace, Health, Wealth and Love be Yours.

May the prayers of all Bodhisattvas and the blessings of all Spiritual Beings enter your heart and hold in their hands all your precious needs. May all your needs be exactly what you intend and may your intentions move in you, from you and return to you with the strength and the power of Living your Life as Divinity Now! So be it!



" May the wicked become good,
May the good obtain peace,
May the peaceful be freed from bonds,
May the free set others free."
- Prayer of a Bodhisattva
Namasté
Om Tara Tare Tam Svaha
Pnum: 115118
Om Guru Om~I pray today with Courtney for kitty Gengetsu "Gengie" . May 'Gengie' recover and heal softly, gently, swiftly. May she feel the love of her owner, and may her owner feel peace as Gengie recovers. I pray all our animals remain safe & protected. May all drivers take care of all animals on the roads, everywhere, worldwide. Blessings to sweet Gengie.

Om Tara Tare Tam Svaha
Pnum: 115117
Mother Father God Goddess Guru, Beloved Mafu, Gracious Green Tara, all Beings of assistance in Light, please send immediate assistance & peaceful resolution to kitty Gengetsu "Gengie" who was hit by a car in Mallorca. May Gengie heal perfectly & immediately now & be happy, & well respected & cared for by the other kitties. Please send Gengie's humans courage & peace at this time. May all the small ones & those crippled be taken care of & cherished by their communities. Thank you NamMyohoRengeKyo


Back to Top