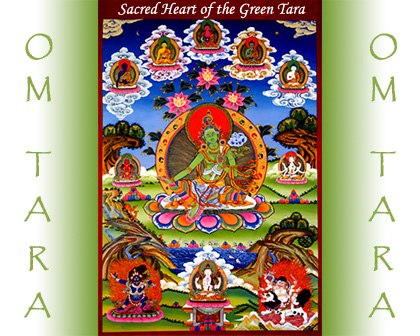 As the Mother of all Healing, the Green Tara shelters All beings in Her Loving embrace and is the Spiritual Bestower of all Health, Upliftment and Well-Being.

The loving embrace of the Goddess Tara radiates outwardly as Kindness, Compassion and Healing for All from worldly or spiritual concerns.

May the powerful blessings of Peace, Health, Wealth and Love be Yours.

May the prayers of all Bodhisattvas and the blessings of all Spiritual Beings enter your heart and hold in their hands all your precious needs. May all your needs be exactly what you intend and may your intentions move in you, from you and return to you with the strength and the power of Living your Life as Divinity Now! So be it!



" May the wicked become good,
May the good obtain peace,
May the peaceful be freed from bonds,
May the free set others free."
- Prayer of a Bodhisattva
Namasté
Om Tara Tare Tam Svaha
Pnum: 115425
God bless you precious Ammaji! May you be healed, healed, healed in every cell of your beautiful body NOW AND ALWAYS!YES!Thankyou. How blessed are we with the brilliance of MAFU's wisdom, the awesome Power of His Love! So grateful for the gift of His beautiful video Darshan on this incredible night of a new Dawn! Such gratitude for the loving, healing, compassionate words of our President elect & VP elect as if they've imbibed Your wisdom, beloved GURU! AUM SANTI SANTI SANTIH AUM!AUM AHIMSA AUM!

Om Tara Tare Tam Svaha
Pnum: 115424
My heart and prayers to our Amaggi for an immediate ceasing of pain and a return to your hail and hearty and loving and joyous self.

Om Tara Tare Tam Svaha
Pnum: 115423
Beloved Lord, Divine Goddess I enter here to pray for my nephew Solomon P who has COVID and Type 1 diabetes. I pray his body effectively fights the virus and he has a full and rapid recovery. I pray his wife Rae remains asymptomatic. I pray this for all who have COVID or are fighting illness. Thank you God for it is done! Om shanti.

Om Tara Tare Tam Svaha
Pnum: 115422
Thank you God/Goddess/GURU for the victory of President-elect Joseph R Biden and VP elect Kamala Harris! YES! As they usher in an era of Peace, Health and Prosperity for everyone! YES! The country is UNITED under their leadership! YES! God bless this skilled, compassionate team as they lead in peace! Peace on Earth and Everywhere for ALL Living Beings! So be it. Indeed! In our GURU'S Grace! AUM AHIMSA AUM! AUM SANTI SANTI SANTIH AUM! AUM SANTI SANTI SANTIH AUM! AUM SANTI SANTI SANTIH AUM!


Back to Top