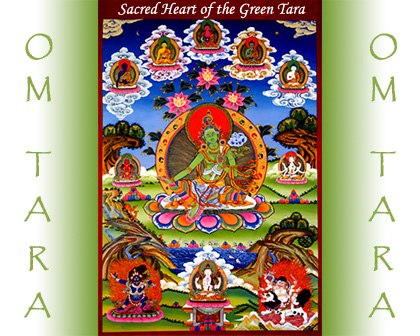 As the Mother of all Healing, the Green Tara shelters All beings in Her Loving embrace and is the Spiritual Bestower of all Health, Upliftment and Well-Being.

The loving embrace of the Goddess Tara radiates outwardly as Kindness, Compassion and Healing for All from worldly or spiritual concerns.

May the powerful blessings of Peace, Health, Wealth and Love be Yours.

May the prayers of all Bodhisattvas and the blessings of all Spiritual Beings enter your heart and hold in their hands all your precious needs. May all your needs be exactly what you intend and may your intentions move in you, from you and return to you with the strength and the power of Living your Life as Divinity Now! So be it!



" May the wicked become good,
May the good obtain peace,
May the peaceful be freed from bonds,
May the free set others free."
- Prayer of a Bodhisattva
Namasté
Om Tara Tare Tam Svaha
Pnum: 114723
Beloved father I love you. Thank you for the opportunity to train Aikido with Doshu at one of his final seminars. May there Be Peace safety and right fellowship on the mat this weekend. Thank you Father for blessing this event, these people and all Aikido training. May there Be Peace On Earth and everywhere for all living beings. May everyone everywhere be glad. May everyone everywhere have clean water healthy food right medicine in pure air. Nammyohorengekyo nammyohorengekyo nammyohorengekyo

Om Tara Tare Tam Svaha
Pnum: 114722
Om Guru Om~In the Grace of your sweet Love, Mafu, please take our beautiful Leslie P. by the heart, as she journeys to Your side. May Leslie merge with the Light she Is as Love so softly, gently, peacefully. Thank you for holding us all, Mafu. I pray for Keith & Leslie's family & friends to receive inner peace as Leslie journeys into Heaven. I pray everyone passing over now has a soft, gentle & easy passing. Blessings & peace to their family & friends. Namaste.

Om Tara Tare Tam Svaha
Pnum: 114721
Om Guru Om~Thank you God, for Mina's precious life. Thank you that she touched me and so many in this life. Thank you she is now at peace. May my beautiful, beautiful friend fly into the Heaven of her Heart. May Mina recognise the beauty of her Self, and fall in love with her Self more and more. May inner peace come swiftly to Mina's brothers, to her companion kitties, and certainly, to her father Tony & mothers Vera and Ammaji. I send you my love, my precious friend. You are so beautiful.


Back to Top