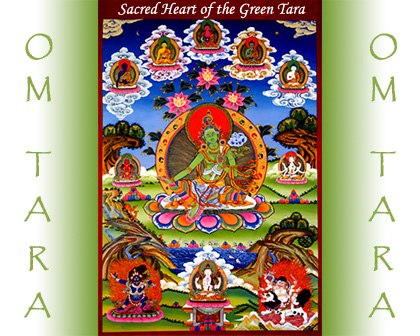 As the Mother of all Healing, the Green Tara shelters All beings in Her Loving embrace and is the Spiritual Bestower of all Health, Upliftment and Well-Being.

The loving embrace of the Goddess Tara radiates outwardly as Kindness, Compassion and Healing for All from worldly or spiritual concerns.

May the powerful blessings of Peace, Health, Wealth and Love be Yours.

May the prayers of all Bodhisattvas and the blessings of all Spiritual Beings enter your heart and hold in their hands all your precious needs. May all your needs be exactly what you intend and may your intentions move in you, from you and return to you with the strength and the power of Living your Life as Divinity Now! So be it!



" May the wicked become good,
May the good obtain peace,
May the peaceful be freed from bonds,
May the free set others free."
- Prayer of a Bodhisattva
Namasté
Om Tara Tare Tam Svaha
Pnum: 114400
Om Tara Om~I pray today for precious little Emmeryn H. I call upon the Budhas & Bodhisattvas of Life, Health & Healing, the Green Goddess Tara to shine Your Divine Healing Lights into the bones, joints & cells of Emmeryn's little body. May this beautiful little girl be healed NOW! of "this" ailment. May she respond swiftly to the medication & steroids to help her body heal. May all little ones experiencing juvenile arthritis be blessed with immediate solutions in Health & Healing NOW! Thank you

Om Tara Tare Tam Svaha
Pnum: 114399
Om Guru Om~On this day, I pray for the health, wealth & continuous spiritual awakening in JOY for our beloved Swami Paramananda Saraswatti, our blessed Ammaji. Thank you for Swami's robust health, physical & emotional. Thank you for Swami's sustainable financial wealth, which supports our Foundation, our OTS & all the beautiful animals there, our precious Ashram, and Mafu's blessed Disciples, their families, their friends. May everyone be so blessed as to know the Guru of their Hearts, as I am.

Om Tara Tare Tam Svaha
Pnum: 114398
Om Guru Om~I pray today for our blessed friend and sister of our Way, Dr. Patricia K. May the surgery on your left shoulder be perfectly aligned with your greatest health. May the hands of Dr. S. Fisher & his entire team be guided by the Bodhisattvas of Light, Health & Healing. Thank you that Patricia's healing is gentle, soft & swift. May everyone having surgery of any kind today & all days be blessed with divine health & healing. Blessed be all life everywhere.

Om Tara Tare Tam Svaha
Pnum: 114397
Om Guru Om~On this day, I pray for all our wildlife, and today in particular I come for our beloved koalas. I pray our people in gov't awaken their compassionate hearts and allow the Australian forests to remain unharmed. I pray the environment of our koalas grows, and our koala population grows in joy. I see a day when our koalas are no longer on the list of endangered animals, where they are safe, here in their homeland, caretaken by our blessed Original Elders in bodies and in Spirit. Thnk-u


Back to Top