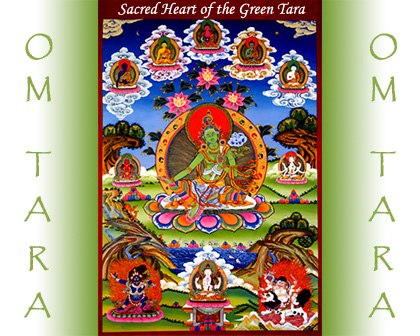 As the Mother of all Healing, the Green Tara shelters All beings in Her Loving embrace and is the Spiritual Bestower of all Health, Upliftment and Well-Being.

The loving embrace of the Goddess Tara radiates outwardly as Kindness, Compassion and Healing for All from worldly or spiritual concerns.

May the powerful blessings of Peace, Health, Wealth and Love be Yours.

May the prayers of all Bodhisattvas and the blessings of all Spiritual Beings enter your heart and hold in their hands all your precious needs. May all your needs be exactly what you intend and may your intentions move in you, from you and return to you with the strength and the power of Living your Life as Divinity Now! So be it!



" May the wicked become good,
May the good obtain peace,
May the peaceful be freed from bonds,
May the free set others free."
- Prayer of a Bodhisattva
Namasté
Om Tara Tare Tam Svaha
Pnum: 114934
Thank You for blessing our Foundation with sustainable financial wealth and 67 million dollars. Thank You for our many wonderful donations that bless us with all we need and more to share. Thank You for blessing Ammaji with strength, swift perfect healing, comfort in her body, deep healing peaceful sleep, prayers answered to their highest potential, great happiness and peace of mind. Please bless OTS with protection, abundance, safety, health, peace and joy. Thank You God. Nam Myoho Renge Kyo.

Om Tara Tare Tam Svaha
Pnum: 114933
Please bless all immigrant children to be safe, protected, loved. Please keep Your divine protection around all the immigrant children who were separated from their family and who are now lost because no records were kept. Please send miracles to return them to their loved ones. Keep them from harm. Guide those in charge to recover them safely. I pray for their broken hearts, and the suffering of their parents. I am so sorry for this. Please forgive America. Thank You God. Nam Myoho Renge Kyo.

Om Tara Tare Tam Svaha
Pnum: 114932
Thank You for the cease fire happening right now between Iran and America. Thank You that tensions have cooled down. I pray this aggression does not create any loss of life or destruction for either country. I am so sorry for what happened and I pray for peace, peace, peace between America, Iran and all nations. I pray for peace in the Middle East always. I pray America becomes strong again, compassionate, trusted, a leader in peace. So be it, thank You God. Nam Myoho Renge Kyo.

Om Tara Tare Tam Svaha
Pnum: 114931
Please hear our prayers and save Kangaroo Island from the flames. Please save all the animals and the people staying to protect them. I am begging for a miracle of rain, rain, rain and containment, PLEASE. Please send many miracles to all of Australia, but please tonight, please save Kangaroo Island and all the precious animals that live there. Please bless those who are willing to die to save the wild ones. Thank You for the army and all who have come to help. Thank You God. Nam Myoho Renge Kyo

Om Tara Tare Tam Svaha
Pnum: 114930
Please prayer for my mom Barbara Anderson that her operation goes well and she has a complete and speedy recovery. Thank you. Namaste and love to all

Om Tara Tare Tam Svaha
Pnum: 114929
Om Guru Om~Sweet Goddess of Mercy, pour your grace upon our land Australia. Sweet God of Mercy, rain down upon our land assisting our firefighters, saving our wildlife. Blessed be. From my heart to your heart, I pray for a safe solution and for our innocent wildlife to be protected, saved, safe, and for our people to be safe & protected. May life everywhere be safe. So Be It. Namaste.

Om Tara Tare Tam Svaha
Pnum: 114928
Om Guru Om~Today I learned a very valuable lesson, for which I am so grateful. The harshest people have had struggles & pain in their lives, so they have become harsh to protect themselves from more pain & more suffering. The softer I am, the softer they become. Bless my client P.P. May he be coccooned in the sweetness of Love so all his sufferings may melt away from him well before he moves into his Heaven. Bless his life, bless his pain, softly, gently help him to heal & let go. Thank you.


Back to Top