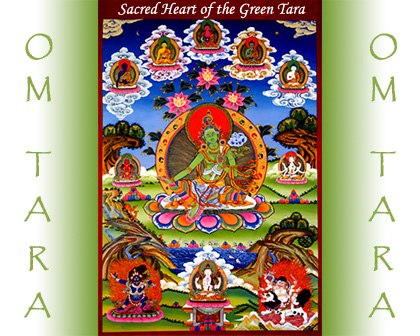 As the Mother of all Healing, the Green Tara shelters All beings in Her Loving embrace and is the Spiritual Bestower of all Health, Upliftment and Well-Being.

The loving embrace of the Goddess Tara radiates outwardly as Kindness, Compassion and Healing for All from worldly or spiritual concerns.

May the powerful blessings of Peace, Health, Wealth and Love be Yours.

May the prayers of all Bodhisattvas and the blessings of all Spiritual Beings enter your heart and hold in their hands all your precious needs. May all your needs be exactly what you intend and may your intentions move in you, from you and return to you with the strength and the power of Living your Life as Divinity Now! So be it!



" May the wicked become good,
May the good obtain peace,
May the peaceful be freed from bonds,
May the free set others free."
- Prayer of a Bodhisattva
Namasté
Om Tara Tare Tam Svaha
Pnum: 115504
Mother, Father, Lord of Lords my Beloved Mafu, Beloved Ammaji, All Beings of Light, I bow in deep gratitude for the Divine Intervention that has placed President Elect Joseph Biden as our next POTUS. May he help usher in an level of Peace, Compassion & Equality for all, the likes of which U.S. has never experienced before. I pray for his and VP elect Kamala Harris's protection during this time of transition. May all who have caused illegal mayhem be brought to Justice. Aum Santih Santih Santih.

Om Tara Tare Tam Svaha
Pnum: 115502
Beloved father I love you. Please surround Joan Powers in your healing light. she's been diagnosed with lung cancer and goes in for surgery on Tuesday. May the surgeons hands be your hands May the doctors choices be your choices May John know only life healed and healthy in her body now in Christ magnetic healing power and your grace Sri Isa Mafu So it is So Be it! Thank you God Thank You Goddess Thank You Guru Nammyohorengeqyoo Nammyohorengeqyo Nammyohorengeqyo Nammyohorengeqyo Nammyohorengeqyo


Back to Top