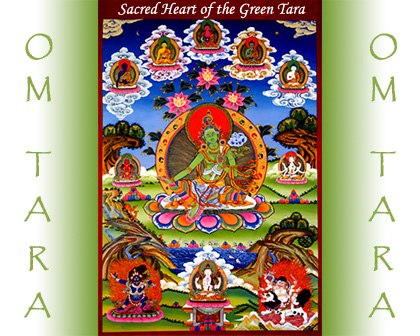 As the Mother of all Healing, the Green Tara shelters All beings in Her Loving embrace and is the Spiritual Bestower of all Health, Upliftment and Well-Being.

The loving embrace of the Goddess Tara radiates outwardly as Kindness, Compassion and Healing for All from worldly or spiritual concerns.

May the powerful blessings of Peace, Health, Wealth and Love be Yours.

May the prayers of all Bodhisattvas and the blessings of all Spiritual Beings enter your heart and hold in their hands all your precious needs. May all your needs be exactly what you intend and may your intentions move in you, from you and return to you with the strength and the power of Living your Life as Divinity Now! So be it!



" May the wicked become good,
May the good obtain peace,
May the peaceful be freed from bonds,
May the free set others free."
- Prayer of a Bodhisattva
Namasté
Om Tara Tare Tam Svaha
Pnum: 114336
Thank You for blessing Christian's father Doug with sustainable healthful longevity. Please bless Doug's stint in his carotid artery to be stable and easily accepted by his body. I pray Doug's arteries are all clear, and his blood flows easily through his body. Thank You that he is completely healed from any effects of his stroke. I pray for Doug, Christian and his family's peace and faith. May all who have suffered a stroke be blessed with perfect healing. Thank You God. Nam Myoho Renge Kyo.

Om Tara Tare Tam Svaha
Pnum: 114335
Beloved Father I love You. Thank you for blessing my dad Doug Devine with sustainable stable healthful longevity in his body, arteries, veins and blood. Thank you MAFU for having your Mastery chant for him. I pray these chants and prayers heal Doug immediately and are a blessing to all those in need of prayer and healing in their body. Thank you MAFU thank you Ammaji. Aum Namah Siva Aum Nam myoho renge Kyo Nam myoho renge Kyo Nam myoho renge Kyo Nam myoho renge Kyo

Om Tara Tare Tam Svaha
Pnum: 114334
Beloved Father I Love You. Please surround my dad, Doug, in Your Healing Light! He is going into emergency surgery any minute. He had a mini stroke while at friends funeral in Westlake. He had a 100% corroded artery and a clot in his brain. He is awake and coherent, but had been slurring his words a little and repeating himself. Master, in Your Grace may Doug's blood, body and brain be Healed Now. Yes! Doug is all healed Now! Yes! Thank you God Nammyohorengekyo Nammyohorengekyo Nammyohorengekyo


Back to Top