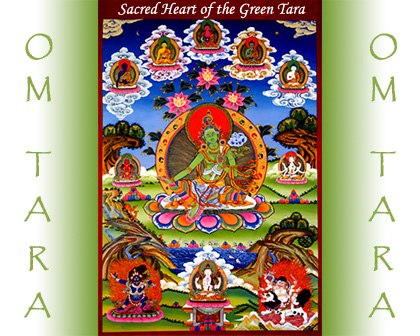 As the Mother of all Healing, the Green Tara shelters All beings in Her Loving embrace and is the Spiritual Bestower of all Health, Upliftment and Well-Being.

The loving embrace of the Goddess Tara radiates outwardly as Kindness, Compassion and Healing for All from worldly or spiritual concerns.

May the powerful blessings of Peace, Health, Wealth and Love be Yours.

May the prayers of all Bodhisattvas and the blessings of all Spiritual Beings enter your heart and hold in their hands all your precious needs. May all your needs be exactly what you intend and may your intentions move in you, from you and return to you with the strength and the power of Living your Life as Divinity Now! So be it!



" May the wicked become good,
May the good obtain peace,
May the peaceful be freed from bonds,
May the free set others free."
- Prayer of a Bodhisattva
Namasté
Om Tara Tare Tam Svaha
Pnum: 114793
My Beloved Sri GuruDev Isa Mafu, my Dearest Ammaji, THANK YOU for your love & the love of all your discipleship. Thank you that Marks cognitive faculties are improving. Thank you for his Life! He & I both know that all the chanting, prayers & Reiki changed the potential outcomes of his recent medical events for the better. Mark expressed that himself yesterday. We pray for continued clarity & direction on his best health. We pray for everyone to be so blessed with support as we have been.

Om Tara Tare Tam Svaha
Pnum: 114792
Dearest Angels and Lords of the Light, I pray you lead my tenant/s to my home for rent now. Please show them the way to the advertisement, please let them come to view the home, love it, and agree to pay the asking price with joy. Give them the abundance to afford it always. Please ensure these new tenants love, love my dog & my dog loves them too! Let them be excellent tenants, clean, tidy & always on time with payments. May abundance reach everyone always, including me now! Many thanks.


Back to Top