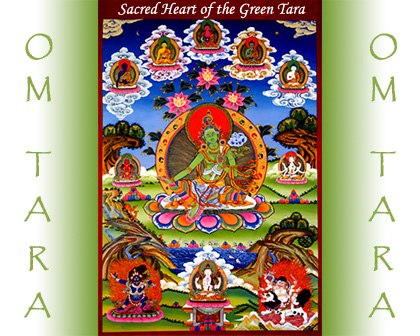 As the Mother of all Healing, the Green Tara shelters All beings in Her Loving embrace and is the Spiritual Bestower of all Health, Upliftment and Well-Being.

The loving embrace of the Goddess Tara radiates outwardly as Kindness, Compassion and Healing for All from worldly or spiritual concerns.

May the powerful blessings of Peace, Health, Wealth and Love be Yours.

May the prayers of all Bodhisattvas and the blessings of all Spiritual Beings enter your heart and hold in their hands all your precious needs. May all your needs be exactly what you intend and may your intentions move in you, from you and return to you with the strength and the power of Living your Life as Divinity Now! So be it!



" May the wicked become good,
May the good obtain peace,
May the peaceful be freed from bonds,
May the free set others free."
- Prayer of a Bodhisattva
Namasté
Om Tara Tare Tam Svaha
Pnum: 114171
Beloved Guru Dev, Blessed Ammaji, All Lords of Light, Green Tara of Swift Action and All Healing Angels, I offer here a prayer for Precious Penelope Williams. I pray the the femur bone in her right leg heals Swiftly and Easily, that she regains Full Mobility, and that she is alert and aware and able to successfully advocate for herself in Rehab. I pray that her Constant Devotion to her Path with Mafu fills her with the Strength &Courage she needs in her healing process. May she be held in LOVE.

Om Tara Tare Tam Svaha
Pnum: 114170
I pray with profound gratitude for today's remarkable peaceful transfer of power in our House. I pray in gratitude for the extraordinary women and men who have been chosen to uplift our nation in compassion and peace. Please bless each and every person in our government with open minds and hearts and the ability to be guided in right action. Thank You for the joy of today. May this joy blossom into the peace and upliftment of our Nation and the whole world. Thank You God. Nam Myoho Renge Kyo.

Om Tara Tare Tam Svaha
Pnum: 114169
First and foremost for my beautiful fiancee marifel that she be healed from all cancer and also my sister and that I have financial blessings to continue to help support them and I and to find peace of mind and not lose my faith that love is the truth and that I can stop having stress and anxiety and trust in God

Om Tara Tare Tam Svaha
Pnum: 114168
OmGuruOm, Beloved Guru, i come in prayer for Ishwara for her to have the right medication to help ease the pain in her body~ i pray for all Healing Angels and Guides to surround her with comfort and peace and love~ i pray for her to have all that she needs to be in comfort~ i pray for Your Love to be with her now and always~ thank you, OmGuruOm

Om Tara Tare Tam Svaha
Pnum: 114167
My Beloved Guru, Sri Isa Mafu, Dearest Swami Ammaji, thank you for my spritual path. thank you for my life which is richer and more fullfilling with every breath because of you. I pray on this day, the anniversary of my birth 57 years ago, with so much gratitude that you found me in this lifetime. I pray to be a good disciple and serve God in the highest manner possible now and always. Thank you thank you thank you!

Om Tara Tare Tam Svaha
Pnum: 114166
Thank You for helping us reveal the truth about Donald Trump and his partners in crime. Thank You for helping all Americans open their minds and hearts and take right action and demand his impeachment so he can do no more harm. May everyone in our government who is like him also be removed from their positions. Please bless and protect Robert Mueller and his team. Please uplift all the suffering our government has created. So be it. Thank You God for hearing our prayers. Nam Myoho Renge Kyo.

Om Tara Tare Tam Svaha
Pnum: 114165
I pray for peace on earth and everywhere for all living beings. Please heal America, Afghanistan, Syria, Yemen, the Middle East, Africa, Mexico, Central America, Russia, No.Korea, our World. May all suffering be uplifted. I pray for all pure water, healthy food, right medicine, safe permanent shelter, clean air, justice, kindness, tolerance, forgiveness, compassion, equality for women, protection for children, compassion for animals, healing for our planet. Thank You God. Nam Myoho Renge Kyo.

Om Tara Tare Tam Svaha
Pnum: 114164
Thank You for this beautiful new year of love. Thank You for blessing our Foundation with sustainable financial wealth and 67 million dollars. Thank You that we have so much to share with others. Thank You for blessing Ammaji with strength, swift permanent healing, great happiness, comfort in her body, deep healing sleep, prayers answered to their highest potential and sweet peace of mind. Please bless OTS with protection, abundance, safety, peace and joy. Thank You God. Nam Myoho Renge Kyo.

Om Tara Tare Tam Svaha
Pnum: 114163
My Beloved Most Precious Guru Sri Isa Mafu. I love You. My pranyams of love devotion and the deepest gratitude for Your love, Your compassion, Your Wisdom, Your mercy. Thank You for loving me, guiding me, holding my hand in this life. I am Yours forever and always. Aum Guru Aum Guru Aum Guru Aum Aum Guru Aum Guru Aum Guru Aum Aum Guru Aum Guru Aum Guru Aum Aum Guru Aum Guru Aum Guru Aum Aum Guru Aum Guru Aum Guru Aum Aum Guru Aum Guru Aum Guru Aum Aum Guru Aum Guru Aum Guru Aum

Om Tara Tare Tam Svaha
Pnum: 114162
Aum Namah Shiva Aum, Beloved Father, Divine Mother, Sri GuruDev Isa Mafu, I always love that I live, I always love that everyone lives in absolute health! Beloved One, I pray in gratitude for Andre's successful eye surgery. Thank you for the blessing of perfect crystal clear eyesight and for a swift recovery now and always! Nam Myoho Renge Kyo Nam Myoho Renge Kyo Nam Myoho Renge Kyo Nam Myoho Renge Kyo Nam Myoho Renge Kyo Nam Myoho Renge Kyo Shalom Shalom Shalom Aum Namah Shiva Aum

Pg 1 of 295