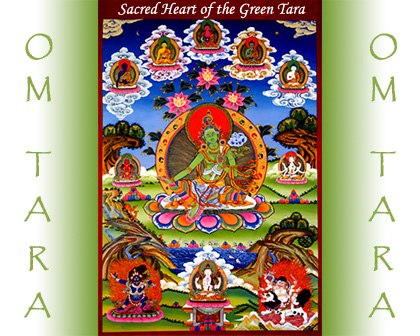 As the Mother of all Healing, the Green Tara shelters All beings in Her Loving embrace and is the Spiritual Bestower of all Health, Upliftment and Well-Being.

The loving embrace of the Goddess Tara radiates outwardly as Kindness, Compassion and Healing for All from worldly or spiritual concerns.

May the powerful blessings of Peace, Health, Wealth and Love be Yours.

May the prayers of all Bodhisattvas and the blessings of all Spiritual Beings enter your heart and hold in their hands all your precious needs. May all your needs be exactly what you intend and may your intentions move in you, from you and return to you with the strength and the power of Living your Life as Divinity Now! So be it!



" May the wicked become good,
May the good obtain peace,
May the peaceful be freed from bonds,
May the free set others free."
- Prayer of a Bodhisattva
Namasté
Om Tara Tare Tam Svaha
Pnum: 113733
Beloved Father, Divine Mother, Lord Isa Mafu, Lord Jesus, Holy Spirit, compassionate Swami, please wrap my mother Ailene in your loving arms, let her bathe in joy and peace as she begins her journey home to you. I pray for her beautiful soul and body to feel only love, soft love, comfort, and your divine presence. Thank you for her beautiful life. I call to all our loved ones on the other side of the veil to greet and hug her. I love you Mafu

Om Tara Tare Tam Svaha
Pnum: 113732
I come again to pray for the Immigrant families to be reunited immediately. Please bless the children. Surround them with Your love and protection. Please keep them safe and guide each one of them to their loving parents. I am so sorry for all their suffering. Please let all these children have truly happy endings. Please help our government to take right actions, and say No! to what is not of the Light. Thank You for holding these children in Your Love. Thank You God. Nam Myoho Renge Kyo.

Om Tara Tare Tam Svaha
Pnum: 113731
Please turn Your divine gaze upon all areas consumed with fires and put the fires out Now! Thank You for making the wind still. Thank You for the cooling temperatures. I pray the fires turn upon themselves and are absorbed by Mother Earth. Please bless all Life with protection and safety. Please bless all first responders and firefighters with protection, stamina, courage and all they need to succeed. Please clear our skies so we can breath in healthfully. Thank You God. Nam Myoho Renge Kyo.

Om Tara Tare Tam Svaha
Pnum: 113730
I pray for peace on earth and everywhere for all living beings. Please free Tibet. Please heal America, Russia, Afghanistan, Yemen, Syria, the Middle East, Africa, Puerto Rico, our World. May all darkness become enchanted by the Light. May all suffering be uplifted. I pray for all pure water, healthy food, right medicine, safe shelter, clean air, justice, tolerance, compassion, forgiveness, equality for women, protection for children, compassion for animals. Thank You God. Nam Myoho Renge Kyo.

Om Tara Tare Tam Svaha
Pnum: 113729
Thank You for blessing our Foundation with sustainable financial wealth and 67 million dollars. Thank You for our many wonderful donations that bless us with all we need and more to share. Thank You for blessing Ammaji with strength, swift permanent healing, comfort in her body, deep healing sleep, prayers answered to their highest potential, great happiness and peace of mind. Thank You for blessing OTS with protection, peace, joy and abundance.Thank You God. Nam Myoho Renge Kyo.

Om Tara Tare Tam Svaha
Pnum: 113727
Beloved Father I love You I pray today for the fires in Redding California may there be a softening to the winds May the fire slow down and cease completely today now. May all those who are protecting our life, communities, homes and our people be blessed in your light Master, blessed in the protection of Lord Jesus Christ, protection and safety of your Shakti in love safety. Thank you God thank you goddess thank you Guru. Aum namah Siva Aum Nammyohorengekyo Nammyohorengekyo Nammyohorengekyo

Om Tara Tare Tam Svaha
Pnum: 113726
Beloved Father and Mother God, I pray for the passing to the light of my friend's husband Mark Smith who passed his body today after much suffering from the tumors caused by exposure to Agent Orange, during his forced service in Vietnam. Mark campaigned in Talent for the elimination of toxic chemicals used to suppress weeds in our parks. Our Mayor has promised to dedicate the end of this practice to Mark as Talent is now dedicated to organic practices. May his soul travel easily to his heaven.

Om Tara Tare Tam Svaha
Pnum: 113725
So grateful for the brilliance of the wisdom from our GURUDEV in the GURU PURNAM Darshans! How blessed are we all!Thankyou so much dearest Ammaji for making this possible.Continued prayers & chants for the fires in Redding & everywhere to be out NOW! God bless the souls passed to the Light!May all be helped NOW! Immense gratitude to all firefighters & first responders! May all be safe, human & animal. In our GURU'S Grace! ThankYou! NAM MYOHO RENGE KYO! NAM MYOHO RENGE KYO! NAM MYOHO RENGE KYO!

Om Tara Tare Tam Svaha
Pnum: 113724
I continue to pray for my preemie granddaughter Isabella.I pray that she has a Strong Will to Live & Thrive and is Filled with Abundant Life-Force. Isabella's lungs, brain & nervous system, heart, liver, kidneys & digestive tract& all of her organs & immune system continue to develop and function Perfectly, supporting her necessary Growth & Healthful Longevity NOW & ALWAYS! Isabella feels & receives the Supportive Love of her parents, Vera and Brian & all tending to her & receives their Healing

Om Tara Tare Tam Svaha
Pnum: 113722
Beloved Father I Love You! On this Day and All Days may I know You Sri Gurudev Isa Mafu more and more. May Your Love Fill me every day every moment and with every breathe. I love you, I bow at your lotus feet. You have given me everything o Lord what shall I offer you. With folded hands I offer you salutations again and again over and over. Sadgurunath Maharaj ki Jai! Thank you thank you thank you

Pg 1 of 253