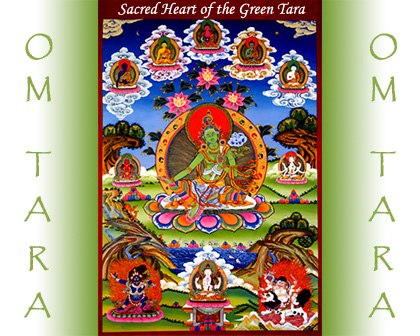 As the Mother of all Healing, the Green Tara shelters All beings in Her Loving embrace and is the Spiritual Bestower of all Health, Upliftment and Well-Being.

The loving embrace of the Goddess Tara radiates outwardly as Kindness, Compassion and Healing for All from worldly or spiritual concerns.

May the powerful blessings of Peace, Health, Wealth and Love be Yours.

May the prayers of all Bodhisattvas and the blessings of all Spiritual Beings enter your heart and hold in their hands all your precious needs. May all your needs be exactly what you intend and may your intentions move in you, from you and return to you with the strength and the power of Living your Life as Divinity Now! So be it!



" May the wicked become good,
May the good obtain peace,
May the peaceful be freed from bonds,
May the free set others free."
- Prayer of a Bodhisattva
Namasté
Om Tara Tare Tam Svaha
Pnum: 116044
Omicron Variant is hitting way too close to everyone's home. With strong faith, I'm asking for a full recovery of those with Covid-19 and the Omicron Variant and in pain, my Beloved Lord Om Isa Mafu, I'm asking You to protect and cover us with your Mercy Love and Forgiveness. Please protect and strengthen everyone: the elderly, homeless, unemployed, sick, front liners and caregivers who are exhausted but are not giving up.

Om Tara Tare Tam Svaha
Pnum: 116043
Holy Father, Divine Mother, Beloved Guru Dev I celebrate the life of Mary, may she be surrounded by Divine Love, Light and all she loves in her Highest Heaven. I pray that Beloved Ammaji and her family are embraced and held by Mafu's loving arms during this time, and always. Nam Myoho Renge Kyo.

Om Tara Tare Tam Svaha
Pnum: 116042
Bless the soul of precious Mary, cherished Mama, Grandmama, Great Grandmama NOW in the Light she is! So dearly loved by all .Such sweet memories of Mary helping, assisting, supporting us. I give such thanks for her sacrifice, giving us our SWAMI and for all her loving kindness over the years. Blessings of peace and love to our beloved Ammaji and all the family, in the knowing Mary is flying high with her Lord and her Angels to her husband and those who have gone before her. NAM MYOHO RENGE KYO!

Om Tara Tare Tam Svaha
Pnum: 116040
Deepest appreciation and thanks to our beloved GURU DEV SRI ISA MAFU, our cherished SWAMI Ammaji and all involved in creating the sublime New year's retreat the Shakti of which continues! How blessed are we all to have this gift! Thank You! Thank You! Thank You! Peace and Love on Earth and Everywhere for All Living Beings! To LIFE! AUM SANTI SANTI SANTIH AUM! AUM AHIMSA AUM!

Om Tara Tare Tam Svaha
Pnum: 116039
My Beloved One, I see my sister and her sons and grandson easily recovered from covid and that the wound on her right knee is healed and no surgery is needed. I pray all people take covid seriously as a medical crisis and get vaccinated and use mitigation measures. I pray that I'm able to be at peace with those misguided to think covid is no more serious than a cold and all measures to stop the spread are dangerous or taking away their freedom. Thank you. Nam Myoho Renge Kyo, So Mote It Be.

Om Tara Tare Tam Svaha
Pnum: 116038
Beloved Guru, blessed Goddess, Highest Healing Dieties, Please assist my good friend P and her family. Each one has significant medical issues needing attention or surgery and several have covid. My friend is working very hard in adverse circumstances to stay in peace and joy to assist her own healing process. Please let her know you are with her. Additionally, I pray for a peaceful attitude in their house and upliftment in all interactions. I am so grateful for your help. Thank you!!

Om Tara Tare Tam Svaha
Pnum: 116037
In the highest light & love of Lord Jesus Christ I celebrate an extraordinary woman, mother, child of God, lover of God, mother of my Swami, Mary who was always so kind, patient & loving. Thank you for birthing your children & being so incredibly supportive of always helping to make it easier for Mafu to come. I thank God that all of your suffering is done forever! I am so sorry for this. Now you are so free! Fly high & freely embraced by all those you cherish and love. So it is!

Om Tara Tare Tam Svaha
Pnum: 116035
Dearest Mafu, I want to thank you. Somehow, I always manage to have enough $$ for my tuitions. Thank you for this New Year's Retreat by donation. How I appreciate your love, your understanding, your thoughtfulness for all of us. Thank you. Thank you. Thank you. Thank you for the blessings of the extention of the NY Retreat reviews. I truly am so very, very grateful. How? How is this so? I am overwhelmed by your love. I should know to expect it by now, but it always keeps astounding me.ILoveYou

Om Tara Tare Tam Svaha
Pnum: 116034
Om Guru Om~On this day I pray for the blessed Mary L.R. mother to our precious Swami, Ammaji. May Mary fly on the wings of Mafu's Love into the Heaven her hear greatest Heart. Thank you MLR for the life of our precious Ammaji and all your beautiful children. Thank you for your life, for being so supportive of Ammaji's journey. Thank you for supporting so many disciples on their journeys. Thank you God for MLR's life. May she continue her journey into Love in peace & harmony always. Nam Myoho RK

Om Tara Tare Tam Svaha
Pnum: 116033
Beloved Father I Love You. I pray for my dad, doug. Today the doctors found a malignat lump in his lymph nodes underneath his left ear. May the magnetic healing powers of Lord Jesus Christ bless Doug lymph nodes and every cell of his body. We see Doug all clear in his lymph nodes all clear his body all clear yes! May the cancer cells be immediately removed and may his body be filled with white light in every cell today now and always! Thank you God Thank you Goddess Thank You Guru! Siva Aum

Pg 1 of 166