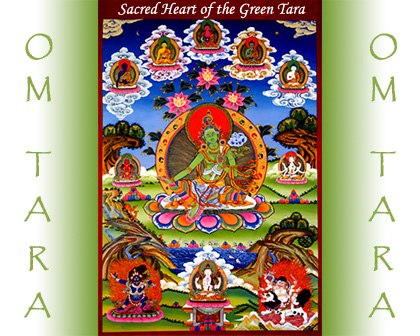 As the Mother of all Healing, the Green Tara shelters All beings in Her Loving embrace and is the Spiritual Bestower of all Health, Upliftment and Well-Being.

The loving embrace of the Goddess Tara radiates outwardly as Kindness, Compassion and Healing for All from worldly or spiritual concerns.

May the powerful blessings of Peace, Health, Wealth and Love be Yours.

May the prayers of all Bodhisattvas and the blessings of all Spiritual Beings enter your heart and hold in their hands all your precious needs. May all your needs be exactly what you intend and may your intentions move in you, from you and return to you with the strength and the power of Living your Life as Divinity Now! So be it!



" May the wicked become good,
May the good obtain peace,
May the peaceful be freed from bonds,
May the free set others free."
- Prayer of a Bodhisattva
Namasté
Om Tara Tare Tam Svaha
Pnum: 113088
Merridi asked me to place a prayer in the prayer temple for her. She is on the way to emergency. She just met with her doctor and the doctor was very concerned about her heart and the irregular heart beat. They will be doing further tests at the hospital. We pray that her heart beat and all aspects of her heart become normal now as well as the ability to catch her breath. We pray that her physical body & heart be strong & that she moves into highest vitality possible. Thank you. Om Guru OM

Om Tara Tare Tam Svaha
Pnum: 113087
A special praye please, for all animals in shelters, waiting for their forever Homes. I pray they are treated with compassion, respect and love. Please shut down all kill shelters. Please guide all states in passing bills for the spaying and neutering of all dogs and cats, please shut down all disreputable breeders and dealers. Please bless these animals with your Divine love and protection. Please help us see the Truth of animals as living beings deserving Love.Thank You God.Nam Myoho Renge Kyo

Om Tara Tare Tam Svaha
Pnum: 113086
I join with Donn in prayers for the swift and gentle passing to the Light of his beloved Mother Irene. May she find herself in the arms of the God she worships, knowing herself to be Love. I am so sorry for Donn's suffering. I pray for comfort and Your divine peace for Donn and all who loved Irene. I pray for Irene's soul to be bathed in the Light of her Heaven. Thank You for the opportunity to pray with Donn for his mother Irene. So be it, thank You God. Nam Myoho Renge Kyo.

Om Tara Tare Tam Svaha
Pnum: 113085
I pray with Luz in appreciation for the healing of her whiplash. I pray with Luz for the complete healing of her immune system. I pray Luz is blessed with sustainable healthful longevity, and a young healed strong body. May Luz only know strength, health and happiness. So be it, thank You God. Nam Myoho Rnege Kyo.

Om Tara Tare Tam Svaha
Pnum: 113084
I pray for peace on earth and everywhere for all living beings. I pray Donald Trump is impeached and a compassionate, intelligent, honest person replaces him. I pray for help for all refugees. I pray for all Dreamers to be able to stay in America, and those who have been sent away to be patient until they can return. I pray for comfort for those who love them. I pray for all animals to be treated with compassion, kindness, respect. Please protect all children. Thank You God.Nam Myoho Renge Kyo.

Om Tara Tare Tam Svaha
Pnum: 113083
Thank You for blessing our Foundation with sustainable financial wealth and 67 million dollars. Thank You for our many wonderful donations and that we have what we need with more to share. Thank You for blessing Ammaji with strength, swift permanent healing, comfort in her body, healing for her heart, deep rejuvenating sleep, great happiness and peace of mind. Please bless the Oregon Tiger Sanctuary with protection abundance safety health peace and joy. Thank You God. Nam Myoho Renge Kyo.

Om Tara Tare Tam Svaha
Pnum: 113082
Beloved Father, Divide Mother, My Beloved Guru Mafu, All Beings of Assistance in Light please light the way for Admiral T who passed his body this morning. May Admiral T know himself as the love & light he is & easily expand to his highest heaven &greatest next Beingness. Thank you for being like a father to my father & so special to me & my family & for you work to try to reconcile secrecy within democracy. May this nation find more ways for peace from your work &the work of others. I love you.

Om Tara Tare Tam Svaha
Pnum: 113081
I join & pray with all the beautiful prayers in this sweet, loving Temple.God bless all passed.Thankyou for the Miracles of healing. God bless all with safe travels May all our animal children be healed & happy.May all affected by the weather patterns be warm & safe. May all wake up & open hearts & minds to the Truth that we are One!God bless our precious SWAMI & all she loves, human, wild, domestic.May all know inner peace.Peace on Earth and Everywhere for ALL living beings!ThankYou ISA MAFU!

Om Tara Tare Tam Svaha
Pnum: 113080
Father Mafu Mother Goddess of the Great Cats ❤️ I pray grateful thank yous for you sending Henry cat to come home and begin the healing process of living without their Father Ray. Peace and compassion and comfort to Fran, her family and all of those who have lost so much. Comfort and compassion and peace to all living beings. I love you so much. Peace and Joy to you, to the world. I love you. I love God. You are what I worship. I'm so grateful for your happy peace.Thank you thank you thank you

Om Tara Tare Tam Svaha
Pnum: 113079
Beloved Father I Love You. Please receive Dolores Oriorden into your loving arms. I pray she is surrounded by her tribe in heaven greeted in joy and happiness, and infused always with the knowing that she is loved. Nammyohorengekyo Nammyohorengekyo Nammyohorengekyo Nammyohorengekyo Nammyohorengekyo Nammyohorengekyo Nammyohorengekyo Nammyohorengekyo Nammyohorengekyo Thank you God Thank you Goddess Thank You Guru Aum Namah Siva Aum

Pg 1 of 193