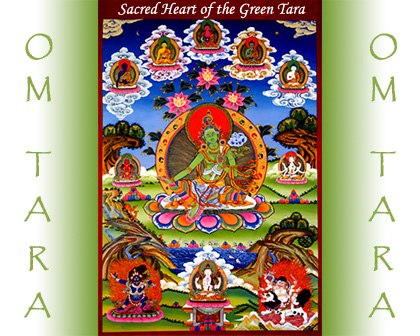 As the Mother of all Healing, the Green Tara shelters All beings in Her Loving embrace and is the Spiritual Bestower of all Health, Upliftment and Well-Being.

The loving embrace of the Goddess Tara radiates outwardly as Kindness, Compassion and Healing for All from worldly or spiritual concerns.

May the powerful blessings of Peace, Health, Wealth and Love be Yours.

May the prayers of all Bodhisattvas and the blessings of all Spiritual Beings enter your heart and hold in their hands all your precious needs. May all your needs be exactly what you intend and may your intentions move in you, from you and return to you with the strength and the power of Living your Life as Divinity Now! So be it!



" May the wicked become good,
May the good obtain peace,
May the peaceful be freed from bonds,
May the free set others free."
- Prayer of a Bodhisattva
Namasté
Om Tara Tare Tam Svaha
Pnum: 114807
YES, I call forth the Magnetic Healing powers of Lord Jesus Christ upon Sadhu's body, now, YES. Yes, by the Grace of the Mother, all healing Angels & Devas and the Grace of my beloved Guru, Sri Isa Mafu, Sadhu's left leg is all clear, filled with bone in the cavity and TOTALLY HEALED NOW, YES. YES, the ligaments in her right knee are strong & mobile now, YES. YES, I see my beautiful canine companion running and enjoying her life with me now, YES! THANK YOU (5X) - SO BE IT, SO IT IS!

Om Tara Tare Tam Svaha
Pnum: 114806
Thank You for the upcoming sacred celebration in Australia with Sri Isa Mafu and His beloved friends, students and Bhaktis. I pray for safe and easy travels for Ammaji and all who are attending. May they know only joy, only peace, only the ecstasy of being with Our Lord. Thank You for these blessings. I pray in gratitude to the beautiful people of Australia for creating this extraordinary time with our Beloved GuruDev Sri Isa Mafu. So be it, thank You God. Nam Myoho Renge Kyo.

Om Tara Tare Tam Svaha
Pnum: 114805
I pray for God's help in removing donald trump from our White House. I pray all Republicans see the Truth and take right action. I pray all those in his "base" open their minds and their hearts to the truth. I pray all who testify against him are safe and that their Truth has the power to remove him and his cohorts from our government. i am so sorry for all the harm he has caused our world. I pray for Your choice to be our new President. I pray for Peace. Thank You God. Nam Myoho Renge Kyo.

Om Tara Tare Tam Svaha
Pnum: 114804
Beloved Father, Goddess Mother, please have mercy upon the land's of Australia and put the fires out now! I pray for calm winds, cool temperatures, heavy moist air and rains to extinguish all fires everywhere. Please keep all Life safe, protect all first responders and keep homes and structures safe. I pray for all wild and domestic ones to be safe and those injured to be healed. I pray for Tyalgum Ridge to be safe for Mafu's retreats with His beloved ones. Thank You God. Nam Myoho Renge Kyo.

Om Tara Tare Tam Svaha
Pnum: 114803
Beloved Isa Mafu, compassionate Green Tara, I pray that Erica S. is found to be all clear. Any and all lumpy tissue in her body is found to be benign. I pray that she lives a long, joyous, and healthy life. Love before her, love behind her, love above her, beside her, and below her. Love surround her, envelope her, and enfold her. Love suffuse her, love perfuse her. Dwelling in love. And so it is.

Om Tara Tare Tam Svaha
Pnum: 114802
Aum Namah Shiva Aum, Sri GuruDev Isa Mafu, Beloved Father, Blessed Divine Mother, Lord Jesus, I pray for the upliftment of my family during the passage of my father, Gilles Trudel. May my uncle Claude and Michel, my brother Mathieu, my sister Caroline, my mother Deborah, my aunt Diane and Marianne and all that I did not name be at peace and be healed by forgiveness and release of all attachment to suffering. May we celebrate our family's blessing into the Grace of Love. So be it OmGuruOm

Om Tara Tare Tam Svaha
Pnum: 114801
Aum Namah Shiva Aum, OmGuruOm, Sri GuruDev Isa Mafu, Beloved Father, Divine Mother, I pray at your lotus feet for the passing of my father, Gilles Trudel, onto the rainbow bridge. May he be guided by Angels, Arcangels, Prophets, Saints and all beings of light to be in the presence of the Lord God of his being and blessed by the One Spirit that lives in all of us. I love you Poppy Nam Myoho Renge Kyo Nam Myoho Renge Kyo Nam Myoho Renge Kyo Nam Myoho Renge Kyo Nam Myoho Renge Kyo OmGuru Om

Om Tara Tare Tam Svaha
Pnum: 114800
Beloved Father, Divine and Holy Mother, Precious Isa Mafu, beautiful Ammagi, I Love You, I honor you, I am grateful. I am having surgery in a few days, Tuesday, November 19. I would appreciate your support and prayers for myself and all medical personnel attending. In love and gratitude, Leslie

Om Tara Tare Tam Svaha
Pnum: 114799
Om Guru Om~What a treat, what a blessing, what a magnificent boon to be with You in my dreams last night, Mafu. Thank you! Thank you! Thank you! I am so in love with You! Thank you! Thank you I am so in love with our Love! Thank you for this experience with you in my dream! It was so simple, so innocent, so authentic, so real ... thank you! May our Swami & all who will travel to Tyalgum to be with you in December travel safe & smooth. Thank you! I love you!

Om Tara Tare Tam Svaha
Pnum: 114798
I pray for peace on earth and everywhere for all living beings. Please heal America, Afghanistan, Yemen, Syria, the Middle East, Africa, Russia, China, No.Korea, Mexico, Central America, South America, our World. May all suffering be uplifted. I pray for all pure water, healthy food, right medicine, safe shelter, clean air, justice, tolerance, compassion, forgiveness, equality for women, protection for children, compassion for animals, healing for our planet. Thank You God. Nam Myoho Renge Kyo.

Pg 1 of 54