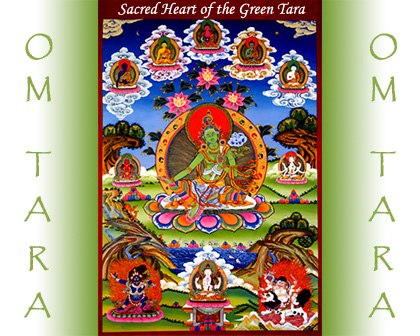 As the Mother of all Healing, the Green Tara shelters All beings in Her Loving embrace and is the Spiritual Bestower of all Health, Upliftment and Well-Being.

The loving embrace of the Goddess Tara radiates outwardly as Kindness, Compassion and Healing for All from worldly or spiritual concerns.

May the powerful blessings of Peace, Health, Wealth and Love be Yours.

May the prayers of all Bodhisattvas and the blessings of all Spiritual Beings enter your heart and hold in their hands all your precious needs. May all your needs be exactly what you intend and may your intentions move in you, from you and return to you with the strength and the power of Living your Life as Divinity Now! So be it!



" May the wicked become good,
May the good obtain peace,
May the peaceful be freed from bonds,
May the free set others free."
- Prayer of a Bodhisattva
Namasté
Om Tara Tare Tam Svaha
Pnum: 115506
I join with anonymous in prayer for all who are challenged by cancer to be uplifted. I pray that anything in their body that doesn't belong becomes as a scab, shrinks and disappears forever. I pray they receive all treatments as the Elixir of Life. comfort, support and the absolute conviction that they will be healed. Please uplift all suffering and give all the emotional and financial support they need. May their medical team be brilliant and kind. Thank You God. Nam Myoho Renge Kyo.

Om Tara Tare Tam Svaha
Pnum: 115505
Beloved Isa Mafu, precious Ammaji, I ask for your assistance in my prayers that my dearest sister Claire who had to go to emergency last night, comes back home today or tomorrow. That she comes back fully hydrated with the right medication. From the moment she was brought by ambulance, we couldn't even see her again. I also pray for courage and peace for everyone here assisting her. NMRK…NMRK…NMRK Thank you, Thank you, Thank you

Om Tara Tare Tam Svaha
Pnum: 115504
Mother, Father, Lord of Lords my Beloved Mafu, Beloved Ammaji, All Beings of Light, I bow in deep gratitude for the Divine Intervention that has placed President Elect Joseph Biden as our next POTUS. May he help usher in an level of Peace, Compassion & Equality for all, the likes of which U.S. has never experienced before. I pray for his and VP elect Kamala Harris's protection during this time of transition. May all who have caused illegal mayhem be brought to Justice. Aum Santih Santih Santih.

Om Tara Tare Tam Svaha
Pnum: 115502
Beloved father I love you. Please surround Joan Powers in your healing light. she's been diagnosed with lung cancer and goes in for surgery on Tuesday. May the surgeons hands be your hands May the doctors choices be your choices May John know only life healed and healthy in her body now in Christ magnetic healing power and your grace Sri Isa Mafu So it is So Be it! Thank you God Thank You Goddess Thank You Guru Nammyohorengeqyoo Nammyohorengeqyo Nammyohorengeqyo Nammyohorengeqyo Nammyohorengeqyo

Om Tara Tare Tam Svaha
Pnum: 115500
Beloved Mafu I am so pleased that my friend Jack R. Is experiencing his transition in ease and in joy. Let it be that he is assisted by only the highest beings of light and that any darkness is no longer present. May Jack be blessed on this journey and may he be free of fear and doubt and embrace the love that he is with joy.Blessed be his loving family who want only the best for him. So be it, so it is done.

Om Tara Tare Tam Svaha
Pnum: 115498
Most Beloved Guru Isa Mafu, dearest Ammaji, we first thank you from the deepest of our heart, to have brought my sister home to us for the 1st of the year. Today, we ask for your assistance in finding NOW the best cancer clinic for her, where she can move immediately to regain her health and strength. NMRK, NMRK, NMRK.

Om Tara Tare Tam Svaha
Pnum: 115497
Most Beloved and Precious Guru and Goddess, Thank you so much for a most beneficial and potent series of video darshans during the New Years Retreat! I am so grateful for the needed reminders promoting attitude adjustment and the powerful shakti. Thank you especially for the final video with the positive message for this time. I love you so much.

Om Tara Tare Tam Svaha
Pnum: 115496
Giving thanks & Pranjams for the glorious New Year's Retreat!The brilliance of our beloved GURUDEV's wisdom & the power of His Shakti is a blessing beyond words! How can we thank our cherished SWAMI Ammaji for bringing us this gift! No words suffice! The Tara Temple exquisite! Appreciation to Master YogiJay for the beautiful yoga and Tai chi! May you all have a blessed 2021 with wealth, health and awakening and may all living beings know peace! AUM SANTI SANTI SANTIH AUM! AUM NAMAHA SIVA AUM!

Om Tara Tare Tam Svaha
Pnum: 115495
Beloved FatherGod, Beloved GuruDev IsaMafu, WanaTanka, White BuffaloCalf Woman, Blessed Ammaji, Please Bring your Loving Graces to soothe the wounded hearts, bitter & angry hurts of the many Indigenous peoples remembering their Ancestors, esp WoundedKnee~ The many children, babies & women slaughtered of Miniconci Pine Ridge Peoples. The many dishonest dealings & betrayls of Am.Govt treaties, seizing lands & these days abusing Land mineral rights, water rights Peace Peace Peace & Restitution Aho.

Om Tara Tare Tam Svaha
Pnum: 115494
Beloved FatherGod, Beloved Mafu, WanaTanka, Tungashila, White Buffalo Calf Woman, Blessed Ammaji, I Call upon your Graces to Protect the Peaceful Water Protectors on site in Palisade Minn. to stop pipline#3 going thru Indigenous Lands, Forests & Waterways. Please Father stop arrests, Protect All Water Protectors. Please Father bring clean Alt.Ways & Peoples NOW to Stop this pipeline. Please Father Protect these precious WatersWays of the Indigenous, for Our America&World HeyaHey HeyaHey Aho

Pg 1 of 120