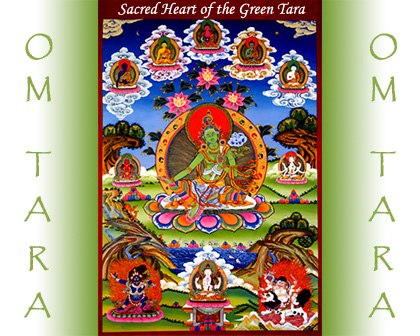 As the Mother of all Healing, the Green Tara shelters All beings in Her Loving embrace and is the Spiritual Bestower of all Health, Upliftment and Well-Being.

The loving embrace of the Goddess Tara radiates outwardly as Kindness, Compassion and Healing for All from worldly or spiritual concerns.

May the powerful blessings of Peace, Health, Wealth and Love be Yours.

May the prayers of all Bodhisattvas and the blessings of all Spiritual Beings enter your heart and hold in their hands all your precious needs. May all your needs be exactly what you intend and may your intentions move in you, from you and return to you with the strength and the power of Living your Life as Divinity Now! So be it!



" May the wicked become good,
May the good obtain peace,
May the peaceful be freed from bonds,
May the free set others free."
- Prayer of a Bodhisattva
Namasté
Om Tara Tare Tam Svaha
Pnum: 116535
My Most Beloved Guru Sri Isa Mafu, Divine Most Holy Mother I pray for My Daughter Chrys that She Receives the perfect care and treatment for the complete Healing and full function of her back and spinal cord, So be it, Thank You. Nam Myoho Renge Kyo, Nam Myoho Renge Kyo, Nam Myoho Renge Kyo,

Om Tara Tare Tam Svaha
Pnum: 116534
My Beloved Guru, Sri Isa Mafu, Blessed Ammaji, I pray now for my beautiful son, for his emotional healing immediately, with help from his doctor, and prayers for his well being. I pray for his suffering to end, as he finds his way, with Your guidance and help, Beloved Guru. Thank you, thank you, thank you 🙏🏽 OmGuruOmguruOm

Om Tara Tare Tam Svaha
Pnum: 116533
Om Guru Om~I come now to humbly pray for space to breathe, to meditate, daily. And once I have mastered this, daily, I pray for the space to chant for others & for myself. I pray peri-menopause is soft and kind to me, as I agree to let her go, knowing I am still a woman. I pray the exhaustion eases, and when I see the space, I melt into it softly, gently, daily. This I pray for everyone who might be struggling on their path. Thank you.

Om Tara Tare Tam Svaha
Pnum: 116532
Om Tara Om~I pray today for my neighbour K.A. who is due for surgery to remove cancer on Monday 06MAR23. I pray his surgeons, docs, nurses and all medical professionals treat him with dignity and strength and grace. I pray for the very highest and best outcome for him, and for every single person, animal, all beings who must have cancers removed. Thank you. Thank you. Thank you.

Om Tara Tare Tam Svaha
Pnum: 116531
Om Guru Om~I come in prayer today for everyone who requires health, healing & correct, precise diagnosis for their bodies. I pray this as well for myself. For my successful examination of nodules with Prof T.I on 09Mar23; for successful gynaecological procedure with Dr. M.B on 23Mar23; for correct & precise diagnosis with neurologist Prof R.G. on 03Apr23. I give great thanks for kindness, love, compassion, professionalism and excellent medical care from all docs, nurses, specialists. Thank you.

Om Tara Tare Tam Svaha
Pnum: 116530
thank You for blessing our Foundation with sustainable financial wealth and the ability to reach everyone whose soul longs for the Light and Love of Sri GuruDev Isa Mafu and His Wisdom. thank You for our abundance that makes this possible. Please bless Ammaji with strength, swift perfect healing, comfort in her body, deep healing sleep, peace of mind, prayers answered to their highest potential. please bless OTS with protection, safety, abundance, peace, health, joy. thank You God. Aum Guru Aum

Om Tara Tare Tam Svaha
Pnum: 116529
i join with jenny in prayers for mel's sustainable healthful longevity and his long, healthy, happy Life. i pray that anything in mel's body that doesn't serve Life, becomes as a scab, shrinks and disappears forever. i pray that mel receives all treatments as the Elixir of Life, and that they bless him with perfect, swift, complete, permanent healing. please bless mel and jenny and their wonderful family with peace, comfort and faith. so be it, thank You God. Aum Namaha Siva Aum

Om Tara Tare Tam Svaha
Pnum: 116528
i pray for peace on earth and everywhere for all living beings. please heal ukraine, syria, turkey, russia, africa, so.america, central america, n.korea, mexico, india, the middle east, everyone. i pray for all, pure water, healthy food, right medicine, safe shelter, clean air, justice, tolerance, compasson, forgiveness, healing, equality for women, cherishing of children, compassion for animals, healing for our earth. please uplift all suffering everywhere. thank You God. Nam Myoho Renge Kyo.

Om Tara Tare Tam Svaha
Pnum: 116527
i pray to all of Heaven to uplift the suffering of all people and animal life, especially those of Ukraine, Syria and Turkey. may anyone alive beneath the rubble be found now! may all the injured be comforted and healed. Please send food water medicine, warm safe shelter to all Life. please bless putin's soul to open to the Light and end the war now! please bless putin with awakening! please help the millions without homes, jobs, health compassion and hope. thank You God. Nam Myoho Renge Kyo.

Om Tara Tare Tam Svaha
Pnum: 116526
Beloved father, I love you. Thank you for this day and for all days. Thank you for peace on earth and everywhere for all living beings. Thank you for the immediate healing of all those affected in East Palestine, Ohio. Thank you for the waters and the earth Being cleansed of all toxins now. Thank you for the healing of all those affected by the recent train accident and chemical explosion. I pray our leaders in Ohio, our leaders in each state uplift their consciousness to life! So be it! Om Guru

Pg 1 of 207