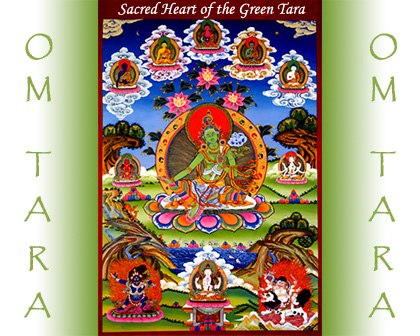 As the Mother of all Healing, the Green Tara shelters All beings in Her Loving embrace and is the Spiritual Bestower of all Health, Upliftment and Well-Being.

The loving embrace of the Goddess Tara radiates outwardly as Kindness, Compassion and Healing for All from worldly or spiritual concerns.

May the powerful blessings of Peace, Health, Wealth and Love be Yours.

May the prayers of all Bodhisattvas and the blessings of all Spiritual Beings enter your heart and hold in their hands all your precious needs. May all your needs be exactly what you intend and may your intentions move in you, from you and return to you with the strength and the power of Living your Life as Divinity Now! So be it!



" May the wicked become good,
May the good obtain peace,
May the peaceful be freed from bonds,
May the free set others free."
- Prayer of a Bodhisattva
Namasté
Om Tara Tare Tam Svaha
Pnum: 113427
Gracias ...gracias..gracias mi Dios por todo lo que me has dado, perdoname, te amo, te amo, te amo.

Om Tara Tare Tam Svaha
Pnum: 113425
My most beloved GuruDev, Sri Isa Mafu, today is the anniversary of the first time we touched in this lifetime. I am still shaken deep in my soul when I remember the moment I looked into your eyes & knew I belonged to you forever. You are my very heart & the greatest blessing in my very blessed life. Thank you for my precious Swami, Ammaji, for my spiritual family, for the wild ones. How I cherish my life with you. May all beings be so loved & know great hope. I am only for you. Aum Guru Aum!

Om Tara Tare Tam Svaha
Pnum: 113424
My Beloved Father God, My Beloved Divine Mother Goddess, My Beloved Guru Maha Mafu i pray for an all clear biopsy this morning 4/19, and see that YES! my right breast is full of happy perfectly healthy beautiful cells and my Divine Breasts are held in the hands of the Divine Mother. Yes! and Dr Young' hands are lovingly guided, & all who touch me do so gently and lovingly YES! This procedure is amazingly comfortable. Yes! Thankyou NamMyohoRengeKyo I pray this for all doing this. So Be It AUM

Om Tara Tare Tam Svaha
Pnum: 113423
Thank you for everything You have given me. Thank you for Your Love, Your Grace, Your Wisdom. I ask You to Guide me now. Goddess Guide Me in Grace. Goddess Reveal the Way to me. Mafu Guide the Way for me. Show me the Way, Goddess. I am so thankful. I love you. Your Love is the greatest blessing in my Life. I love you. May all be so blessed. Guide Everyone who requires guidance please Goddess, Guru. Thank you. I love you eternally.

Om Tara Tare Tam Svaha
Pnum: 113422
Beloved Lord, Medicine Buddhas we enter here to pray for our beloved Kai S who suffered a serious injury to his leg while protecting a child. We pray for his transport to US is safe and his medical condition is stable. We pray any infection in his wounds is healed and his recovery is complete. We're grateful for Kai's access to quality medical care. God bless his caretakers. We pray this for all needing urgent medical care. TYGFIID. Om shanti

Om Tara Tare Tam Svaha
Pnum: 113421
Beloved Father I Love You! Give to you my day and do with it what you will I give to you my teacher training Father do with it what you will I love you may the members B filled the joy in the satisfaction exactly what they need for growth and development with the journey of self and their journey in the community and Journey as a divine action of God. I pray for compassion peace happiness and joy on this day and all days for myself my trainees and all those who in your will Father choose life

Om Tara Tare Tam Svaha
Pnum: 113420
AYER FINALMENTE APRENDIENDO A SOLTAR Y CONFIAR..Suelto y confio en ti mi Dios que me salves de esta enfermedad y sanes my cuerpo y mente absolutamente de mi karma y la de mis antepasados, Dios mio del alma. quiero estar en tus brazos siempre ..gracias te amo te amo te amo AMEN

Om Tara Tare Tam Svaha
Pnum: 113419
Beloved Guru Dev, Blessed Healing Goddess Green Tara, The Magnetic Healing Powers of Lord Jesus Christ, we pray for diplomacy instead of more air strikes against Syria. We pray that Congress is consulted before further action. We pray for peace in the middle east and between all nations. We pray for deceleration of antagonistic rhetoric among countries, leaders and on Twitter. We pray for Peace on Earth and Everywhere for All Living Beings. Aum Namaha Siva Aum!

Om Tara Tare Tam Svaha
Pnum: 113418
Beloved father I love you. Please keep Remi C. In your healing light may his emergency appendix surgery today be surrounded in guided but you're Reiki hands. Maybe surrounded by The Very Best of doctors the very best of surgeons maze recovery base be Swift and simple. I pray this for Remy and for all those in surgery today and all days so we thank you God thank you goddess thank you Guru Nammyohorengekyo Nammyohorengekyo Nammyohorengekyo Nammyohorengekyo Nammyohorengekyo Nammyohorengekyo

Om Tara Tare Tam Svaha
Pnum: 113417
My Beloved Sri Guru Dev . i pray in Gratitude and Celebration for the Life of my grand'daughter Victoria, 18 today. she is a beautiful young woman who knows how to have fun in life with friends, and be responsible. Happy Birthday Beautiful Victoria. Happy Blesst Wishes with bouquets of roses, Angels to watch over you at Chochela & Money for College! May all children be as blessed as you in their Lives. Om Mane Padme Om. Goddess Guide Victoria in her Life for the Highest choices and outcomes OM.

Pg 1 of 225