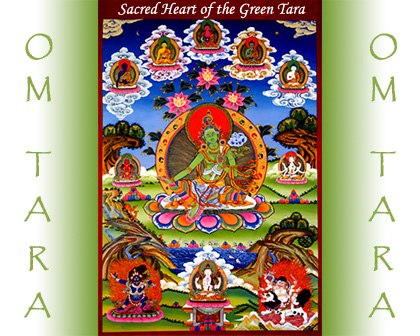 As the Mother of all Healing, the Green Tara shelters All beings in Her Loving embrace and is the Spiritual Bestower of all Health, Upliftment and Well-Being.

The loving embrace of the Goddess Tara radiates outwardly as Kindness, Compassion and Healing for All from worldly or spiritual concerns.

May the powerful blessings of Peace, Health, Wealth and Love be Yours.

May the prayers of all Bodhisattvas and the blessings of all Spiritual Beings enter your heart and hold in their hands all your precious needs. May all your needs be exactly what you intend and may your intentions move in you, from you and return to you with the strength and the power of Living your Life as Divinity Now! So be it!



" May the wicked become good,
May the good obtain peace,
May the peaceful be freed from bonds,
May the free set others free."
- Prayer of a Bodhisattva
Namasté
Om Tara Tare Tam Svaha
Pnum: 114681
Om Guru Om~I am so truly grateful to be falling in love with my business again. I am truly grateful for the respect I have from all my colleagues around the world, and in Aus too. Mafu,I pray you bless my journey this coming October/November 2019 to Iran. Blessings be upon all travellers everywhere. May they be safe, May we all learn more about ourselves & others as we travel, for the purpose of open-mindedness & open-heartedness.In Your Grace, show me the way that I can still travel Home to You

Om Tara Tare Tam Svaha
Pnum: 114680
Beloved Lord, Divine Goddess we pray for our good friend Daniel C and daughter Rachael after the tragic passing of Elizabeth C. Comfort Rachael's young heart as she heals from witnessing her mama's, aunt's and cousin's death. We pray for their acceptance of losing Elizabeth while she celebrated her recovery from breast cancer. May the perfect emotional support pup come to Rachael. May they find grace in their grief.peace to their precious, loving hearts. God bless their family. Om shanti

Om Tara Tare Tam Svaha
Pnum: 114679
Thank you for the happy, healed, healthy results for Drew, beloved brother of our precious sister Louise I. YES! Drew is ALL CLEAR NOW AND ALWAYS! YES! I pray for sustainable healthful longevity for Drew and for all healing! YES! In our GURU'S Grace!Thank You! Thank You! Thank You! NAM MYOHO RENGE KYO! NAM MYOHO RENGE KYO! NAM MYOHO RENGE KYO!

Om Tara Tare Tam Svaha
Pnum: 114678
Mafu I don't like my family my sister in particular. I love her but I don't like her. I find it hard to be around her. I want her to get help for her condition and I believe this will bring peace to all. Please bring right action, right thinking and right therapy to all who are mentally deranged and emotionally screwed up. I pray you help me with the strength to keep becoming stronger within me whilst still living as a member of this family. Thank you.

Om Tara Tare Tam Svaha
Pnum: 114677
For Patricia K's ALL CLEAR NOW AND ALWAYS! God bless Patticia. May her treatment be gentle and successful, her medical team divinely guided. I pray for her sustainable healthful longevity and for all in this Temple in need of healing. To LIFE! In our GURU'S Grace! Thank You! AUM NAMAHA SIVA AUM! NAM MYOHO RENGE KYO! NAM MYOHO RENGE KYO! NAM MYOHO RENGE KYO!

Om Tara Tare Tam Svaha
Pnum: 114676
Beloved Mafu, God/Goddess of the One Love, I pray for Stacey L. and Dan Janiack and his family as they seek healing from the loss of his oldest daughter Hannah and grandson Alden thru violence. Hold them in Love, the mother Imelda and remaining children Joy, Ben and Jubilee, and the family that gathers in memorial next week. Peace to those who remain, wrapped in Love and Forgiveness, and a swift flight into the Light for these two that have left us. nam myoho range Kyo nam myoho renege Kyo

Om Tara Tare Tam Svaha
Pnum: 114675
Beloved Father, Divine Mother, Master Guru Mafu, Spirit, Friends... I reach out seeking support and prayer for healing. Recent strong antibiotics to counter a recurring infection have caused debilitating side effects. Imbalance, dizziness, muscle weakness, numbness, speech impairment. Perepheral necropathy. Symptoms have improved very slightly and slowly. I pray these disappear, are only temporary, for the experience, and i come back to full strength and health soon. Love to All! Namaste!

Om Tara Tare Tam Svaha
Pnum: 114674
Most Holy Divine Mother & Father, My Beloved of Beloveds Isa Mafu, Beloved Ammaji, with all of my heart I pray for Drew Innes to receive immunotherapy easily into his body as White Light that disintegrates the virus in every cell of his body. He is as he was before & is again, ALL CLEAR and perfectly healthy, Now & Always!. Yes! I see Divine Miracles unfolding for him for his perfect health and his doctors providing the very best, compassionate care available. TYG! NMRKNMRKNMRKNMRKNMRKNMRKNMRK

Om Tara Tare Tam Svaha
Pnum: 114672
My Beloved Father, Blessed Divine Mother, My Beloved Gurudev and Precious Swami my humble pranyams Blessed blessed blessed be my brother Drew Innes Thank you for the all the healing he has received from his initial stage of immunotherapy. YES ! Drew Innes' scan result today reveals ALL CLEAR in EVERY CELL OF HIS BODY YES! Thank you thank you thank you thank you thank you SO this is TRUE SO this is DONE SO BE IT ! INDEED ! nammyohorengekyo nammyohorengekyo nammyohorengekyo Blesesd be all

Om Tara Tare Tam Svaha
Pnum: 114671
My Beloved, I pray for all silent children suffering from abuse of any kind, physical, sexual or emotional. I pray that these precious children can feel the love of their Angels surrounding them in comfort. I pray for the upliftment of the suffering of their perpetrators to find professional help for their illness and seek forgiveness and self-love. May the wicked become good. May the good obtain peace. May the peaceful be freed from bonds. May the freed set others free. Nam Myoho Renge Kyo

Pg 1 of 42