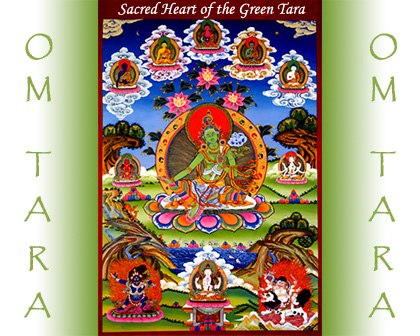 As the Mother of all Healing, the Green Tara shelters All beings in Her Loving embrace and is the Spiritual Bestower of all Health, Upliftment and Well-Being.

The loving embrace of the Goddess Tara radiates outwardly as Kindness, Compassion and Healing for All from worldly or spiritual concerns.

May the powerful blessings of Peace, Health, Wealth and Love be Yours.

May the prayers of all Bodhisattvas and the blessings of all Spiritual Beings enter your heart and hold in their hands all your precious needs. May all your needs be exactly what you intend and may your intentions move in you, from you and return to you with the strength and the power of Living your Life as Divinity Now! So be it!



" May the wicked become good,
May the good obtain peace,
May the peaceful be freed from bonds,
May the free set others free."
- Prayer of a Bodhisattva
Namasté
Om Tara Tare Tam Svaha
Pnum: 113961
Om Guru Om~I pray my time with You at your Ashram Home in December/January this 2018-19 comes with an abundance of love and blessings, healings & upliftments for me in joy & for everyone Mafu. I pray I heal my beautiful heart, I pray I heal my precious mind. I pray for beautiful moments with You, my Beloved, always. I pray for beautiful moments with my brothers & sisters. I pray today in gratitude for your loving guidance always Mafu. To your feet I am coming. I love You. I trust You. I love You

Om Tara Tare Tam Svaha
Pnum: 113960
Prema pranams Sri Mafu, thank you for helping me understand. I pray for your love & support & that our love only grow in our love for all, especially right now for your students healing where needed, spiritual progress and advancement. I am humbly, purely sincere in this & humbly serve without need for recognition, selflessly just wanting to give, compassionately love, heal & benefit others. Thank you for your love of them, all and creation. My heart to your heart blessed Mafu. Om Namah Siva, Ma

Om Tara Tare Tam Svaha
Pnum: 113959
My beloved Father, my divine Mother I pray in gratitude for the good health of my niece Sarah J whose biopsy was benign. THANK YOU GOD! I also pray in gratitude that my mother Gerrianne had a successful hip replacement surgery and is recovering well. I pray Mama and Sarah and all people continue to heal and thrive in their lives. Thank you for their lives and for the supportive people around them.

Om Tara Tare Tam Svaha
Pnum: 113958
Beloved Father I Love You. Please surround Consuelo C. in Your Healing Light Master. May her lower back pain be healed immediately. In the Magnetic Healing Powers of Lord Jesus Christ, Consuelo aka Mamma, is Healed Now Yes. Yes, Consuelo's pain in her lower back and body is healed now! Yes! Thank you God Thank you Goddess Thank You Guru. I pray this now in Your name Mafu for Consuelo and all those in need of Healing. May they receive the best of medicines, foods and liquids now. So Be It

Om Tara Tare Tam Svaha
Pnum: 113957
Beloved Father, Blessed Divine Mother, Beloved Lord Sananda Jesus, Beloved Lord Isa Mafu 💗I love You💗 I call forth the magnetic healing power of Lord Jesus Christ for Freda D. who is in ER in hospital tonight after a car accident. May her heart rate, and other serious injuries be stabilised now. Please be with her and fill her with golden white light and heal her now. Thank You Father🙏 Nam Myoho Renge Kyo Mam Myoho Renge Kyo Nam Myoho Renge Kyo

Om Tara Tare Tam Svaha
Pnum: 113956
Loving holy father, divine mother, humble pranams, please bless all who are suffering in the world that they may know sweet peace and relief from their suffering. That all that they need come to them in all areas of their life as they are held in your loving merciful grace. Amen... Om Namah Shivay... Jai Mata Di

Om Tara Tare Tam Svaha
Pnum: 113953
I pray for peace and love in the highest to enter the hearts and minds of all living beings upon this and all worlds. I pray for forgiveness of self and others to open the doors of healing in this and all worlds.....for all living beings. Thank you for compassion and peace, for love and unity between all living beings...may it grow stronger everyday. Thank you Beloved GuruDev for your patience and love...thank you for showing me the way. NamMyohoRengeKyoNamMyohoRengeKyoNamMyohoRengeKyo

Om Tara Tare Tam Svaha
Pnum: 113952
Om Guru Om~I thank you for my healing. I thank you for my continued healing & my life. I pray for the continued emotional healing of everyone & this I pray too for myself. I place "this" now forever at the feet of my Gurudev Sri Isa Mafu and I watch it evolve into lusheous green grass with flowers growing in Love. Help me to keep my heart open & to continue to grow in self-love. I thank you for this blessing. Blessed be the other too. Thank you for teaching me. May I continue to learn to relate.

Om Tara Tare Tam Svaha
Pnum: 113951
I thank you for our blessed Swami, Ammaji. I celebrate your birth, Swami. I am so grateful Mafu has chosen you as His oracle. Thank you for bringing Mafu to all of us, to me. Thank you for your loving kindness. Blessed be my Swami, Ammaji. Blessed be her life, her loves, her family, her OTS, and her Foundation for Meditative Studies. Blessed be all who worship God & Goddess with such love and devotion. I love you Ammaji! xxx

Om Tara Tare Tam Svaha
Pnum: 113950
Loving pranams Holy Father, Divine Mother, I pray humbly for all who are suffering in any way to feel your healing love & comforting divine presence through their trials bearing the suffering, the pain. Please grant them strength, that their bodys, minds, hearts & souls be healed now through your infinite grace & power. I pray this also for myself & my inability for so long to walk with out excruciating pain & to go outside. I pray to again serve, in humble gratitude. Om Namah Shivay Jai Mata Di

Pg 1 of 275