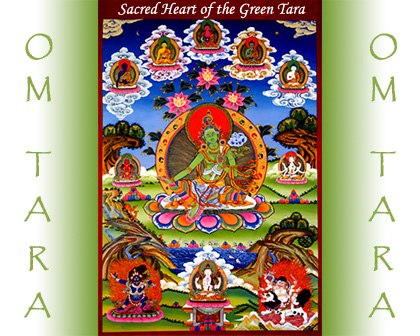 As the Mother of all Healing, the Green Tara shelters All beings in Her Loving embrace and is the Spiritual Bestower of all Health, Upliftment and Well-Being.

The loving embrace of the Goddess Tara radiates outwardly as Kindness, Compassion and Healing for All from worldly or spiritual concerns.

May the powerful blessings of Peace, Health, Wealth and Love be Yours.

May the prayers of all Bodhisattvas and the blessings of all Spiritual Beings enter your heart and hold in their hands all your precious needs. May all your needs be exactly what you intend and may your intentions move in you, from you and return to you with the strength and the power of Living your Life as Divinity Now! So be it!



" May the wicked become good,
May the good obtain peace,
May the peaceful be freed from bonds,
May the free set others free."
- Prayer of a Bodhisattva
Namasté
Om Tara Tare Tam Svaha
Pnum: 112869
I thank you for my Guru Dev, my Swami, Ammaji, and my family, spiritual & blood. I thank you for my life too. I pray for Your guidance Mafu please. Please connect me with the healer that is best for me, that I can untangle & deal with (as peacefully as possible), issues with my immediate family. This person must help me make clear decisions, help me to see the truth, help me with practical knowledge on how to deal with the challenges I face with them. I pray everyone finds their healer match.

Om Tara Tare Tam Svaha
Pnum: 112868
Om Guru Om, Om Green Tara of the One, and all Great Deities. Blessed be Keith M.'s completely successful knee surgery, and rapid recovery which allow Keith to Always enjoy flexibility, strength, and comfort throughout his entire body. So it is done. Thank you God.

Om Tara Tare Tam Svaha
Pnum: 112867
OM GURU! I ask for divine right action on behalf of Mitch Earle. This man has dedicated every moment of his life to uplift hearts, minds and spirits of everyone he meets. Now, he is facing retinal detachment surgery for a failed Lasik procedure. I ask for the presence of Mafu, Sananda, Mitch's guides & gatekeepers, to ensure a most successful and least invasive, traumatic surgery. If there is a benevolent way for his eye to heal without the surgery, let that be revealed in a timely manner. OM

Om Tara Tare Tam Svaha
Pnum: 112866
I pray for peace on earth and everywhere for all living beings. Please free Tibet. Please heal America, Russia, Afghanistan, Syria, Iraq, No.Korea, our World. May all darkness become enchanted by the Light. May all suffering be uplifted. I pray for all pure water, healthy food, right medicine, safe shelter, clean air, justice, tolerance, compassion, forgiveness, equality for women, protection for children, compassion for animals, protection for their habitats. Thank You God. Nam Myoho Renge Kyo

Om Tara Tare Tam Svaha
Pnum: 112865
Thank You for blessing our Foundation with sustainable financial wealth and 67 million dollars. Thank You for those who abundantly support Mafu's work on our planet. Thank You for blessing Ammaji with strength, swift permanent healing, comfort in her body, deep rejuvenating sleep, great happiness, a personal miracle and peace of mind. Please bless the Oregon Tiger Sanctuary with great protection, abundance Now, safety, peace and joy. Thank You God. Nam Myoho Renge Kyo.

Om Tara Tare Tam Svaha
Pnum: 112864
Please bless him with sustainable healthful longevity and a long happy life. I pray that anything in his body that doesn't serve Life becomes as a scab, shrinks and disappears forever. I pray that he easily and comfortably receives all treatments as the Elixir of Life. I only see his heart strong young happy healed. Please bless him and his mother with strength, courage, faith and peace of mind. Please bless this little one with the Miracle of healing and Life. Thank You God. Nam Myoho Renge Kyo

Om Tara Tare Tam Svaha
Pnum: 112863
om guru om ... sri isa mafu ... shiva rudra ... please offer me guidance as i struggle with my health ... my housing ... trying to start a new career and keep my best friend going ... all at the same time ... i pray for the upliftment of all people in similar challenging circumstances ... om guru om ...

Om Tara Tare Tam Svaha
Pnum: 112861
Most Precious Lord Sri Guru Dev Isa Mafu, Holy Mother, Most Beloved Swami, Ammaji, Highest Holy Healing Angels and Guides, we give thanks for the Life of our precious brother Mitch of the One. We are so grateful for his health and that he and the others involved in the car accident yesterday are okay. Thank you God/Goddess/Guru/Swami. Thank You for watching over us and our families. Thank you Leslie for your Loving support. We Love you Mitch. OmGuruOmGuruOmGuruOm

Om Tara Tare Tam Svaha
Pnum: 112860
Beloved Father, Blessed Divine Mother, Lord Sananda Jesus, Lord ISA Mafu 💗I love You💗 I pray for a true solution for the refugee men stranded in hopelessness on Manus Is. May our political leaders replace their need to be right with their true compassion and right action now, Thank you Father 🙏 Nam Myho Renge Kyo Nam Myho Renge Kyo Nam Myho Renge Kyo

Om Tara Tare Tam Svaha
Pnum: 112859
Beloved Father, Blessed Divine Mother, Lord Sananda Jesus! Lord ISA Mafu 💗I love You💗 May the wicked become good, may the good obtain peace, may the peaceful be freed from bonds, may the free set others free🙏 May more world leaders choose compassionate courage & integrity as they meet at the summits. Nam Myho Renge Kyo Nam Myho Renge Kyo Nam Myho Renge Kyo

Pg 1 of 172