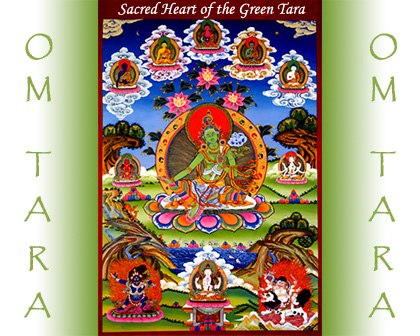 As the Mother of all Healing, the Green Tara shelters All beings in Her Loving embrace and is the Spiritual Bestower of all Health, Upliftment and Well-Being.

The loving embrace of the Goddess Tara radiates outwardly as Kindness, Compassion and Healing for All from worldly or spiritual concerns.

May the powerful blessings of Peace, Health, Wealth and Love be Yours.

May the prayers of all Bodhisattvas and the blessings of all Spiritual Beings enter your heart and hold in their hands all your precious needs. May all your needs be exactly what you intend and may your intentions move in you, from you and return to you with the strength and the power of Living your Life as Divinity Now! So be it!



" May the wicked become good,
May the good obtain peace,
May the peaceful be freed from bonds,
May the free set others free."
- Prayer of a Bodhisattva
Namasté
Om Tara Tare Tam Svaha
Pnum: 116674
Beloved Father God GuruDevIsa Mafu.Mother Goddess Divine, I call upon your Healing Blessings for my niece Heidi K.C, in her third round of Chemotherapy, That YES~all tumors on and around her intestines/abdomen shrivelUP and become dust as she Easily LETS GO of what no longer serves her Precious LIFE As only Health ~ YES~ Heidi Lives with a Strong Sense of Spirit For Life with an UpBeat Grateful Attitude~YES! Thank YOU I am grateful for all Blessings & Healing Graces NamMyohoRengeKyo Aum Shanti

Om Tara Tare Tam Svaha
Pnum: 116673
Beloved Father God Guru Goddess. I pray for Charlie G.. that YES! the 2nd cardiologist finds the Perfect Solution for his Heart and knows what "the spot" on his Heart IS~ YES~ I see Charlie becomes Comfortable, finding Peace being at home vs out working~ YES! Thank you for all Blessings of Healing & Health for this kind honest working man NamMyohoRengeKyo NamMyohoRengeKyo NamMyhoRengeKyo So be It!


Back to Top