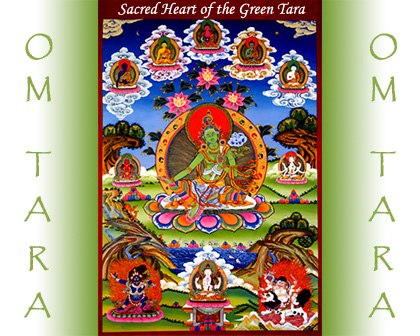 As the Mother of all Healing, the Green Tara shelters All beings in Her Loving embrace and is the Spiritual Bestower of all Health, Upliftment and Well-Being.

The loving embrace of the Goddess Tara radiates outwardly as Kindness, Compassion and Healing for All from worldly or spiritual concerns.

May the powerful blessings of Peace, Health, Wealth and Love be Yours.

May the prayers of all Bodhisattvas and the blessings of all Spiritual Beings enter your heart and hold in their hands all your precious needs. May all your needs be exactly what you intend and may your intentions move in you, from you and return to you with the strength and the power of Living your Life as Divinity Now! So be it!



" May the wicked become good,
May the good obtain peace,
May the peaceful be freed from bonds,
May the free set others free."
- Prayer of a Bodhisattva
Namasté
Om Tara Tare Tam Svaha
Pnum: 115045
Beloved Lord, Divine Goddess I pray for my stepmom Patricia B whose son passed suddenly after having lost my dad less than a year ago. I pray for Michael to merge with the Light he is, to know only love on his journey Home. Peace to Pat and her daughter's Deb and Tracy and all who love Michael. I pray this for all who are grieving. Om shanti

Om Tara Tare Tam Svaha
Pnum: 115044
Beloved Lord, Medicine Buddhas I pray for Alex V as he recovers from Stage 2 lymphoma. I see him receiving perfect treatment, his immune system strong as he undergoes chemo. Peace to his wife and two young children. I pray for an All Clear for Alex and all who are fighting the good fight. TYGFIID. Om shanti

Om Tara Tare Tam Svaha
Pnum: 115043
Beloved Father, Divine Mother, Beloved Guru, All Beings of Assistance in Light, please guide Gerald L peacefully to his Highest Heaven. May he know himself as the Love and Light he is, and meet Jimi Hendrix on the way. Please surround his family and friends with comfort and peace. Thank you for this beautiful Light. Nam Myoho Renge Kyo Nam Myoho Renge Kyo Nam Myoho Renge Kyo

Om Tara Tare Tam Svaha
Pnum: 115042
Divine Mother, Beloved Father, Beloved Guru, Magnetic Healing Powers of Goddess Tara, all Beings of Assistance in Light, please fill and surround Gerald L and his family and friends now. Yes! Gerald continues his journey as a healthy happy human or passes his body, in his own Divine timing in peace and for his highest Self. Yes! Gerald knows how much he is loved and knows himself as love now and always. Yes! So be for all who benefit from this help. Thank You. Nam Myoho Renge Kyo Nam Myoho Rengo

Om Tara Tare Tam Svaha
Pnum: 115041
Joining all in need of healing prayer and chant. God bless our country and all countries with right leadership and sustainable healthful longevity. Thank you cherished SWAMI Ammaji. May you and all you love be always blessed with health, wealth and awakening! May all wake up to know we are One! Peace on Earth and everywhere for ALL living beings! In the Grace of our beloved GURUDEV SRI SRI ISA MAFU! Thank You! AUM NAMAHA SIVA AUM! AUM NAMAHA SIVA AUM! AUM NAMAHA SIVA AUM!

Om Tara Tare Tam Svaha
Pnum: 115040
My Beloved Father, My Divine Mother, thank you for my life & my spiritual path. I pray to dedicate each day to serving God in the highest manner possible. I pray to always remember gratitude. I am so grateful for my strong healthy body & the stamina to march daily in grace through your love. Thank you for ALL life. I pray to always see the jewel in the darkness & live consciously in peace and joy. Thank you for this Prayer Temple. I pray with all those praying here. My heart to your heart.

Om Tara Tare Tam Svaha
Pnum: 115039
Holy Mother Mary, please bless her mother with your grace, peace, courage and comfort in her body mind and soul. Please help her family care for her as she deserves. Thank you, Holy Mother, for holding her in your arms and filling her with your love. Hail Mary full of grace the Lord is with thee. Blessed art thou among women, and blessed is the fruit of thy womb, Jesus. Holy Mary Mother of God pray for us sinners now and at the hour of our death Amen. Please bless all mothers. Thank you. Amen.

Om Tara Tare Tam Svaha
Pnum: 115038
Thank You for continued precious rain falling where needed in Australia. I pray for cooler temperatures, still winds, air heavy with moisture, fires folding in on themselves, and needed rainfall to extinguish all fires. Please bless all Life with safety. Please send food to all wildlife in need. Please keep safe all firefighters and volunteers and bless them with all they need for success. Please bless the people of Australia with peace, strength and faith. Thank You God. Nam Myoho Renge Kyo.

Om Tara Tare Tam Svaha
Pnum: 115037
Thank You for blessing our Foundation with sustainable financial wealth and 67 million dollars. Thank You for our many wonderful donations that bless us with all we need and more to share. Thank You for blessing Ammaji with strength, swift perfect healing, comfort in her body, deep healing sleep, prayers answered to their highest potential, great happiness and peace of mind. Please bless OTS with protection, abundance, safety, health, peace and joy. Thank You God. Nam Myoho Renge Kyo.

Om Tara Tare Tam Svaha
Pnum: 115036
Beloved Father, Divine Mother, Great Spirit who lives in each of us. My heart is having something called a stenosis of the aortic valve. I don't know what this is but I pray you guide all the medical people who will be making decisions and working together to heal this in my body. I feel great gratitude that you are with us as we add this to our life journey. Please help both of us to find peace together. Thank you My Lord. Om Namaha Siva Om Om Namaha Siva Om Om Namaha Siva Om.

Pg 1 of 77