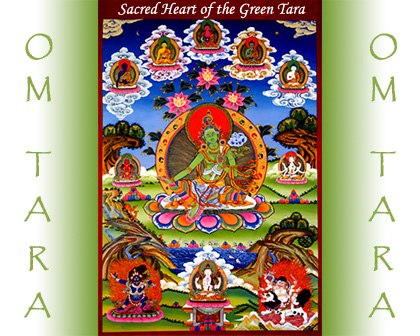 As the Mother of all Healing, the Green Tara shelters All beings in Her Loving embrace and is the Spiritual Bestower of all Health, Upliftment and Well-Being.

The loving embrace of the Goddess Tara radiates outwardly as Kindness, Compassion and Healing for All from worldly or spiritual concerns.

May the powerful blessings of Peace, Health, Wealth and Love be Yours.

May the prayers of all Bodhisattvas and the blessings of all Spiritual Beings enter your heart and hold in their hands all your precious needs. May all your needs be exactly what you intend and may your intentions move in you, from you and return to you with the strength and the power of Living your Life as Divinity Now! So be it!



" May the wicked become good,
May the good obtain peace,
May the peaceful be freed from bonds,
May the free set others free."
- Prayer of a Bodhisattva
Namasté
Om Tara Tare Tam Svaha
Pnum: 115748
My Beloved Father, My Divine Mother, my head is on the floor with gratitude. Thank you that my step-mom Karen's internal bleeding stopped, only needing 3 units of blood. Thank you that she is stabilized & drinking broth. Thank you that Papa is feeling strong. I pray for their continued resilience & as much healing as possible for their greatest longevity in comfort, peace and joy. Thank you for all senior citizens receiving compassionate, expert, affordable healthcare now & always. So Be It!

Om Tara Tare Tam Svaha
Pnum: 115746
Blessed be Blessed be Blessed be my beautiful Sister on the Path Pearl Brown.May you fly into your highest heaven as Love and Beyond, merged with your great Love our Beloved Master Sri Isa Mafu. Thank you for your friendship, for everything you gave to so many with your healing skills and your radiating shakti of Peace. All my love. Aum Guru Aum Guru Aum Nammyohorengekyo Nammyohorengekyo Nammyohorengekyo SO BE IT !

Om Tara Tare Tam Svaha
Pnum: 115745
I pray for my best friend Melanie ,May she be heal now of all sickness and cancer in her body ,I pray that Lord Jesus Christ with his magnetic power of healing and all Angels and Archangels heal her in this very moment !So be it!

Om Tara Tare Tam Svaha
Pnum: 115744
My Beloved Father, My Divine Mother, thank you for your love and blessings. I ask for prayers again for my step mother, Karen who had endoscopy today & unexpected liver biopsy which bled. Thank you that the bleeding was stopped & that she is getting excellent care in hospital. Thank you that Papa got home safely & will get some rest. Please hold them in your loving arms in peace and comfort. I pray for all senior citizens to receive loving compassionate care and affordable healthcare. Thank you

Om Tara Tare Tam Svaha
Pnum: 115743
Dear God, Goddess, Guru. I pray for successful hernia surgery for my son, Shawn Dix, on the morning of Tuesday, July 20th. May the hands of surgeon Dr. Jacob Juta be totally blessed for a perfect surgery. I pray that Shawn's blood sugar level is below 180 so that the surgery can be made successfully. May Shawn recover easily and rapidly. Thank you, thank you, thank you! Om Guru Om.

Om Tara Tare Tam Svaha
Pnum: 115742
I pray for Pearl B. who may be passing according to the doctors. If there is a way for her to heal, I call on the highest beings of light to help her now. If this is her time to pass, I pray that it is an easy, gentle passing and that her soul flies to the highest heaven, into the arms of Mafu. May she merge with love & only know herself as love & may she join with her daughter on the other side & may both of them know only peace & love. May this also be for all who are passing. Thank you

Om Tara Tare Tam Svaha
Pnum: 115741
OmGuruOm, my Beloved Guru, Blessed Holy Mother, May Beloved Father, Blessed Ammaji, I come in prayer for Pearl Brown who has just been admitted to Rogue Valley hospital...it is not known right now if Pearl will make it through the night...I pray with my heart that the highest most gentle and perfect outcome for Pearl occurs...I know she loves you so much...she always asks me about You, Mafu, whenever I see her ...thank you for Your love ..OmGuruOmGurOm

Om Tara Tare Tam Svaha
Pnum: 115740
My Beloved Father, My Divine Mother, today among my many prayers for healing of dear friends I also pray for my 89yr old Mother, Gerrianne. She had successful total knee replacement 7/6 then fell at home 2 days ago. She feels shaky & anxious. She is also going blind. I pray for her to be open to the care & medical attention needed, makes an excellent recovery & is willing to relocate to live with others in whatever is the best environment for her health & happiness. Thank you thank you thank you

Om Tara Tare Tam Svaha
Pnum: 115739
My Beloved Father, My Divine Mother, i come in prayer for my father, John, age 93 1/2. He is having some kind of heart issue which leaves him very weak, tired, sometimes dizzy, sometimes low blood pressure. He had 2 abnormal EKG's but was well enough to return home after dr appt. I pray that blood test results & follow-up with cardiologist reveal clear solution to provide him with strength & resilience. I pray for clear guidance if i need to fly east to support. Thank you thank you thank you.

Om Tara Tare Tam Svaha
Pnum: 115738
I come to pray for your love and healing for my brother who has very high blood pressure and swelling in his brain. Please let this be curable, an easy thing for the doctors to fix. I pray for the best doctors available to diagnose and find a simple and fast treatment to bring him back to perfect health. Please bless him with strength and courage. Please don't let him suffer or be afraid. I ask for anyone in a health crisis to be blessed with support and healing. Nam Myoho Renge Kyo. Thank you.

Pg 1 of 139