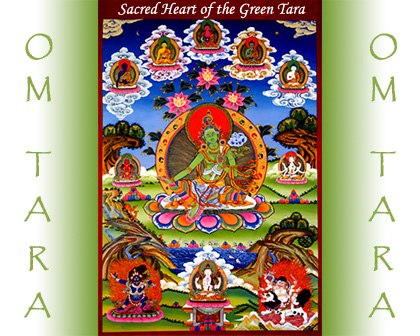 As the Mother of all Healing, the Green Tara shelters All beings in Her Loving embrace and is the Spiritual Bestower of all Health, Upliftment and Well-Being.

The loving embrace of the Goddess Tara radiates outwardly as Kindness, Compassion and Healing for All from worldly or spiritual concerns.

May the powerful blessings of Peace, Health, Wealth and Love be Yours.

May the prayers of all Bodhisattvas and the blessings of all Spiritual Beings enter your heart and hold in their hands all your precious needs. May all your needs be exactly what you intend and may your intentions move in you, from you and return to you with the strength and the power of Living your Life as Divinity Now! So be it!



" May the wicked become good,
May the good obtain peace,
May the peaceful be freed from bonds,
May the free set others free."
- Prayer of a Bodhisattva
Namasté
Om Tara Tare Tam Svaha
Pnum: 115330
God bless the great soul of RBG., a magnificent life well lived! With gratitude, reverence and respect for her extraordinary life of service. She reached the spiritually high age of 87 and passed to the Light erev Rosh Hashana - a Tzaddik or Saint according to the Jewish tradition. May her last, fervent wish to her granddaughter, Clara, be made manifest. Deepest Pranjams! NAM MYOHO RENGE KYO! NAM MYOHO RENGE KYO! NAM MYOHO RENGE KYO!

Om Tara Tare Tam Svaha
Pnum: 115329
Beloved Lord, Medicine Buddhas I pray for my dear friend Marc whose PSA is higher than normal after having had prostate cancer 4 years ago. I pray Marc receives perfect treatment and I see his PSA returning to zero. I see Marc in perfect health and spirits. I pray this for all with abnormal PSAs and all facing prostate cancer. TGYFIID. Om shanti

Om Tara Tare Tam Svaha
Pnum: 115327
My Beloved Mafu, I ask for prayers for the continued healing of my brother, Ralph, from his stroke. May his recent stay at the hospital and the MRI he will have give him all the information and help he needs for his continued healing. May he regain more energy and strength within himself that brings him so much joy. May he always know how much he is loved.

Om Tara Tare Tam Svaha
Pnum: 115326
For the soul of my beloved cousin Mervyn Lasovsky,96, in Israel, passed to the Light 9/11 10.30 amCST. A magnificent life well lived.He & Joyce, 93 my mother's 1st cousin, were like parents to us in Zimbabwe before they moved to Israel. I speak to her daily & so grateful that we could attend the funeral virtually in Rehovot Sunday & Zoom Shiva Tues. Grateful I celebrated Mervyn's 95th birthday in Israel last year.My heart is full for prayer & chant at this Sacred time. Only Love remains. SHALOM!

Om Tara Tare Tam Svaha
Pnum: 115325
Of such gratitude for the protection & safety of our beloved Oregon Tiger Sanctuary.For the privilege & blessing to chant with our loving discipleship in prayer & thanksgiving as we pray & chant for the cessation NOW of the fires in Oregon, WA & CA, & the safety of 1st responders & support & help for all affected.God bless one & all.ThankYou.ThankYou. Thank You! Thankyou with all my heart Beloved GURUDEV SRI ISA MAFU, cherished SWAMI Ammaji, all the devoted Vets! To LIFE! NAM MYOHO RENGE KYO!

Om Tara Tare Tam Svaha
Pnum: 115324
Beloved father I love you thank you for the immediate moist cool air and rainfall in Oregon Washington and California now. Thank you that all their fires slow, settle and stop now! Yes thank you God thank you Goddess thank you Guru. Thank you for 'the Clear Vision of the South Obenchain fire and All Fires being Completely Contained in the Circle of the Goddess, supported by the Strength of Shiva, and being surrounded by a Wall of Water and folding into the Earth and Completely PUT OUT NOW!' Yes!

Om Tara Tare Tam Svaha
Pnum: 115323
Most Divine Radiant Mother Goddess, Beloved Holy Father, My Lord of Love Mafu, Precious Beloved Ammaji, Holy Angels, Thank You, Thank You, Thank You for our lives & the grand privilege of creating miracles on our Planet Earth. Thank You for hearing our prayers & chants for the extinguishing of all fires on the West Coast of the USA. Thank you for the total containment of the fires in our area. Thank you for saving OTS & the lives of all at OTS including our precious Swami Ammaji. AumGuruAum ❤

Om Tara Tare Tam Svaha
Pnum: 115322
Incessant prayer and chant for the immediate extinguishing of the South Obenchain fire and all fires, turning back on themselves NOW! YES! The air is moist and the winds are still! YES! The protection and safety of all firefighters and all, human and animal NOW AND ALWAYS! YES! So be it. Indeed! In the Grace of our GURU! Thank You! Thank You! Thank You! NAM MYOHO RENGE KYO! NAM MYOHO RENGE KYO! NAM MYOHO RENGE KYO !

Om Tara Tare Tam Svaha
Pnum: 115321
I pray for the defeat of donald trump in our election and for joe biden to become our next president. I pray the election process is fair and protected. May everyone easily vote and have their vote tallied correctly. Please block any interference from other countries or from those within who wish us harm. I pray for Joe Biden and Kamilla Harris to be overwhelmingly chosen by America to be our next President and Vice President. Please protect our elections! Thank You God. Nam Myoho Renge Kyo.

Om Tara Tare Tam Svaha
Pnum: 115320
Thank You for blessing our Foundation with sustainable financial wealth and 67 million dollars. Thank You for our many wonderful donations that bless us with all we need and more to share. Thank You for blessing Ammaji with strength, swift perfect healing, comfort in her body, deep healing sleep, prayers answered to their highest potential, great happiness and sweet peace of mind. Please bless OTS with protection, safety, health, peace, abundance and joy. Thank You God. Nam Myoho Renge Kyo.

Pg 1 of 104