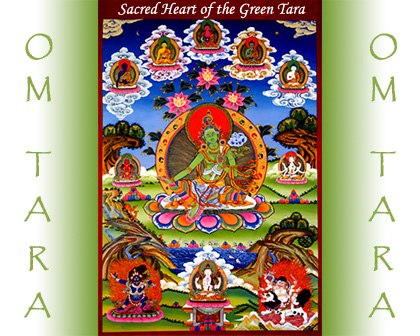 As the Mother of all Healing, the Green Tara shelters All beings in Her Loving embrace and is the Spiritual Bestower of all Health, Upliftment and Well-Being.

The loving embrace of the Goddess Tara radiates outwardly as Kindness, Compassion and Healing for All from worldly or spiritual concerns.

May the powerful blessings of Peace, Health, Wealth and Love be Yours.

May the prayers of all Bodhisattvas and the blessings of all Spiritual Beings enter your heart and hold in their hands all your precious needs. May all your needs be exactly what you intend and may your intentions move in you, from you and return to you with the strength and the power of Living your Life as Divinity Now! So be it!



" May the wicked become good,
May the good obtain peace,
May the peaceful be freed from bonds,
May the free set others free."
- Prayer of a Bodhisattva
Namasté
Om Tara Tare Tam Svaha
Pnum: 115737
My Beloved Father, My Divine Mother, i pray with Merridi for her father's successful surgery on July 20th. I pray his surgery is easy and his recovery comfortable. I pray for Merridi and her entire family to feel confident and peaceful in the journey of supporting her father in his healthcare needs. I pray for all senior citizens to be loved and well supported; and all people to have easy access to excellent affordable healthcare now and always Thank you thank you thank you. So Be It!

Om Tara Tare Tam Svaha
Pnum: 115736
My Beloved Father, My Divine Mother, i pray in gratitude for the good health of my family. I pray now for my step-mom, Karen's easy diagnostic procedures of upper endoscopy on July 20 and coronary artery angiogram within the next 3 weeks. These are tests for eligibility for kidney transplant. I pray these tests are easy and reveal strength and resilience in her cardiac and digestive systems. Thank you for keeping a watchful loving eye on Karen and my father, John through these times. I love you.

Om Tara Tare Tam Svaha
Pnum: 115735
My Beautiful Beloved of Beloveds Mafu, Beloved Ammaji, I join with Merridi & all here for her precious father Jay & his upcoming bypass surgery on his left leg. May the surgery be a complete success as performed by his skilled surgeon and medical team. May Your Hands be the surgeon's hands Mafu as You guide him to a perfect outcome. May Jay's body easily accept anesthesia easily for him to wake up happy with zero complications. I pray this for all elderly having surgery. SBI! So It Is Done! NMRK

Om Tara Tare Tam Svaha
Pnum: 115734
Beloved father I love you may there be peace on earth and everywhere for all living beings pray for the calling of my soul for an immediate balance of weather in ecosystem of our planet Earth. May humans work in harmony with the earth May our weather patterns return to normal cycles now. may the greed of the few be replaced by the heart of the many. may we know peace on earth and everywhere for all living beings today now and always! so be it Nammyohorengeqyo Nammyohorengeqyo Nammyohorengeqyo

Om Tara Tare Tam Svaha
Pnum: 115733
OmGuruOm, my Beloved Guru, Blessed Ammaji, thank you for Your love~I just found out my dad's surgery is postponed until Tuesday morning July 20th~ I ask for continued blessings on his life and a successful perfect Bipass surgery on his left leg~ thank you ~ OmGuruOmGurOm

Om Tara Tare Tam Svaha
Pnum: 115732
My Beloved Guru, Sri Isa Mafu, Blessed Holy Mother, Beloved Father, Blessed Ammaji, I come in Prayer tonight for my father Jay, who is undergoing Bipass surgery on his left leg, in two days, Tuesday July 13th at 9 am~ he is 94 years old~ I pray for a successful surgery, and that he easily handles the anesthesia and all he needs to recover simply and gently~ please bless my brother Jonathan with peace, and strength ~ I thank you with all of my heart ~ OmGuruOmGuruOm

Om Tara Tare Tam Svaha
Pnum: 115731
My Beloved Guru Sri Sri Isa Mafu Divine Mother of Swift Healing Green Tara I ask for your attention and Grace to surround your precious disciple Terry W. who is undergoing a CT Scan in this moment that it reveal an" All Clear "for her abdomen & rectum.May she feel your loving arms surround her & may she be at Peace knowing she is so loved. May every cell of Terrys body be happy healthy & completely healed immediately Now So Be It !Thank YouThank YouThank YouThank You ThankYou NamMyoHoRengeKyo

Om Tara Tare Tam Svaha
Pnum: 115730
Om Tara Om, Om all great Deities of Healing, Om Compassionate Buddha, Let it be Now, We pray for immediate and continuing shrinkage of the life-threatening, swollen heart aorta of Alan Clements, that he may go forward with perfect health in his continual support and working for the liberation of Myanmar's people and their imprisoned leader. Let there be Peace thruout Myanmar Now. NMRK NMRK NMRK Thank you God!!

Om Tara Tare Tam Svaha
Pnum: 115729
Prayers for Amin who is recovering from a COVID-19 infection. He is doing much better as he was vaccinated before being infected. May his visit with this virus be brief, and may there be no long term effects. May the love of Allah fill his cells. So Be It.

Om Tara Tare Tam Svaha
Pnum: 115728
Thank you! Thank you! Thank you! I got an appointment today for 25th July to get my first dose Pfeizer vaccine! Thank you God! Thank you for the person whose place became available for me! Thank you Universe! I am praying that all Australians have access to the very best vaccines and AVAILABILITY TO GET VACCINATED against COVID-19 NOW! This I also pray for our entire world, in particular developing countries & -Pakistan,Bangladesh,India,Brazil,UK,Colombia,USARussia, France,Italy,Turkey,Argentina