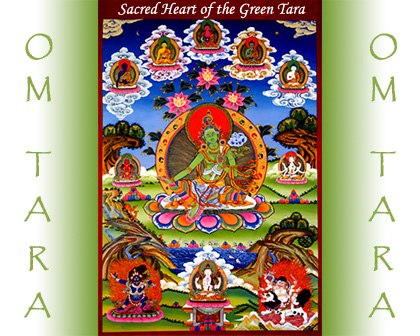 As the Mother of all Healing, the Green Tara shelters All beings in Her Loving embrace and is the Spiritual Bestower of all Health, Upliftment and Well-Being.

The loving embrace of the Goddess Tara radiates outwardly as Kindness, Compassion and Healing for All from worldly or spiritual concerns.

May the powerful blessings of Peace, Health, Wealth and Love be Yours.

May the prayers of all Bodhisattvas and the blessings of all Spiritual Beings enter your heart and hold in their hands all your precious needs. May all your needs be exactly what you intend and may your intentions move in you, from you and return to you with the strength and the power of Living your Life as Divinity Now! So be it!



" May the wicked become good,
May the good obtain peace,
May the peaceful be freed from bonds,
May the free set others free."
- Prayer of a Bodhisattva
Namasté
Om Tara Tare Tam Svaha
Pnum: 116392
My Most Beloved Sri Guru Dev Isa Mafu, Holy Blessed Mother, Blessed Healing Angels and Guides of Kay Cotney, my cousin in N. Carolina who suffers from the long term effects of Covid. I pray she continues to heal and receive all the Loving care she needs .May she continue to be strong and focused on Life! God Bless her compassionate and caring partner and family. Thank you..OmGuruOmGuruOmGuruOm

Om Tara Tare Tam Svaha
Pnum: 116391
My Beloved Guru, Sri Isa Mafu, I ask your Blessings for my sister Rosi' son Scott K, who has had 3seizures, to please guide him to lessen unto zero use of marijuana, that is taking over his Life. I see Scott awaken to the realization of how precious he Is & valuable his life is~ Yes! Scott realizes he does not have to act like his father, to take charge of his Life & Health now~ YES! May Scott' Angels be diligent now in guiding him to take Care of his precious Life urgently TY OmNamahSiva AUM

Om Tara Tare Tam Svaha
Pnum: 116390
Beloved Father God, my beloved GuruDev Isa Mafu, I ask your Healing Blessings for my niece, Heidi K.C ~I see Heidi Completely All Clear of cancer in abdomen as all patches shrivel & dissipate into NoThing~YES! the large intestine heals & all perforations from chemo Heal & Seal~ YES! WeAll Family surround Heidi in Love & Prayers as she continues in Strength, Stamina, Resilience moving step by step to Complete Healing. ThankYou God/Guru for All Blessings for Heidi Nammyohorengekyo NMRK NMRK AUM

Om Tara Tare Tam Svaha
Pnum: 116389
Beloved Father God, my beloved GuruDev Isa Mafu, I ask your Healing Blessings for my brother, George W & his wife, Susan, for their complete kind healing from virus deltacrom, BA.5. That they each regain strength, easy breathing, healing of their throat & voice, and healthy Rest for their bodies to completely Heal in every cell & body function. I pray this great Healing Blessing be for all who are dealing w any version of the virus Nammyohorengekyo Nammyohorengekyo Nammyohorengekyo ThankYou AUM

Om Tara Tare Tam Svaha
Pnum: 116385
Beloved Father💗I Love You. I pray for my son Paul who 7 months ago moved away somewhere, and does not respond to anyone's attempt to communicate with him. 🙏 Please help him to heal and find peace and know his family loves him. Thank You Father💗 NamMyhoRengeKyo NamMyhoRengeKyo NamMyhoRengeKyo

Om Tara Tare Tam Svaha
Pnum: 116384
🙏Thank You Beloved Father💗Marcie M is choosing Life, has found the courage to get out of bed for the first time to sit in a chair🤗 Her lungs are healing, she is no longer in ICU! may her injuries continue to heal. Pls bless her family especially Maureen and Amanda with better health. NamMyhoRengeKyo

Om Tara Tare Tam Svaha
Pnum: 116383
Beloved Father Most Divine Mother Thank you for the Grace of Love Blessed be Queen Elizabeth, may she fly into her Highest Heaven as Love. Thank you for your life of steadfast service and duty. Blessed be your family in Peace. SO BE IT ! nammohorengekyo nammohorengekyo nammohorengekyo Thank you thank you thank you thank you thank you

Om Tara Tare Tam Svaha
Pnum: 116382
My Beloved Father, My Divine Mother, i pray in gratitude for this day and all days. I pray for peace and comfort and joy and support for everyone everywhere. I pray for good health, prosperity and spiritual awakenings galore now and always for everyone everywhere. thank you thank you thank you. So Be It!

Om Tara Tare Tam Svaha
Pnum: 116381
Beloved Father, Divine Mother, Beloved Guru, Lord Jesus Christ, Blessed Mother Mary, High Holy Angels, All Beings of Assistance in Light, I pray that Mimi S easily passes to her highest heaven knowing herself only as the love and light that she is. Please guide her and embrace her. I pray for the peace and comfort of her family and friends. Thank you. Nam Myoho Renge Kyo Nam Myoho Renge Kyo Nam Myoho Renge Kyo

Om Tara Tare Tam Svaha
Pnum: 116380
Beloved Father, Divine Mother, Beloved Guru of my Heart, Mother Mary, Lord Jesus Christ, Angels and Guides, please shine grace, peace and comfort on Mimi S as she prepares to leave her body for her next expression. May she move on in her own divine right timing and know herself as the love and light she is. Please send peace and comfort to her many brothers and sisters, and family. Please help all in similar situations. Nam Myoho Renge Kyo Nam Myoho Renge Kyo Nam Myoho Renge Kyo Thank You