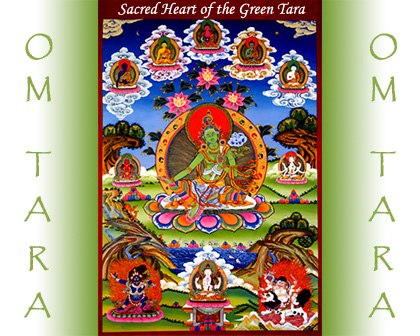 As the Mother of all Healing, the Green Tara shelters All beings in Her Loving embrace and is the Spiritual Bestower of all Health, Upliftment and Well-Being.

The loving embrace of the Goddess Tara radiates outwardly as Kindness, Compassion and Healing for All from worldly or spiritual concerns.

May the powerful blessings of Peace, Health, Wealth and Love be Yours.

May the prayers of all Bodhisattvas and the blessings of all Spiritual Beings enter your heart and hold in their hands all your precious needs. May all your needs be exactly what you intend and may your intentions move in you, from you and return to you with the strength and the power of Living your Life as Divinity Now! So be it!



" May the wicked become good,
May the good obtain peace,
May the peaceful be freed from bonds,
May the free set others free."
- Prayer of a Bodhisattva
Namasté
Om Tara Tare Tam Svaha
Pnum: 116245
Beloved father I love you I pray on this day for peace on earth and everywhere for all living beings. I joined it worldwide prayer for an immediate peaceful resolve between Ukraine and Russia I pray for immediate ceasefire for communities Russian and Ukraine to come together to rebuild and reunite in love and compassion peace and harmony family to family brothers and brothers aum namah siva aum Thank you God Thank you goddess thank you Guru

Om Tara Tare Tam Svaha
Pnum: 116244
Aum Guru Aum, Aum Shiva Aum, we pray that every Ukraine child, woman, and man Now and Always receives clean water, abundant food, helpful medical care, and that they Now rejoin with their families. NMRK NMRK NMRK Thank you God

Om Tara Tare Tam Svaha
Pnum: 116243
Deepest Pranjams to our beloved GURU DEV & cherished SWAMI Ammaji for the extraodinary video Darshan we were so blessed & grateful to receive! Thank you! Thank you! Thank you! The wisdom & teaching so profound, so critically important at this time. May we all wake up to know we are One! Praying incessantly for ALL suffering to be uplifted, for peace within, peace in families, peace in communites, countries, continents! Peace on Earth and Everywhere for ALL Living Beings! AUM SANTI SANTI SANTIH!

Om Tara Tare Tam Svaha
Pnum: 116241
I join in prayer with all in need of healing and for those passing or who have passed to the Light. Peace and comfort to their families and friends supporting them with love. God bless all. I give thanks for our cherished SWAMI Ammaji and our beloved GURU DEV always with us! Thank you! Thank you! Thank you,! NAM MYOHO RENGE KYO! NAM MYOHO RENGE KYO! NAM MYOHO RENGE KYO!

Om Tara Tare Tam Svaha
Pnum: 116240
I pray for the safe and comfortable travel for my AH , for his safe and pleasant stay in Egypt and his safe and comfortable flight back home. I pray that AH and all those travelling at this time have safe and comfortable travels in God and my Guru's name Lord Isa Mafu, and I give thanks that this is done. Om Guru Om THANK YOU!

Om Tara Tare Tam Svaha
Pnum: 116239
My Beloved Lord Isa Mafu, All High Holy Angels of Healing, I pray for Bill S to have All Clear results from his diagnostic testing. Please ease his mind and surround him, his wife and children with love and comfort during this time. I pray for All Clear results for all people receiving test results of any kind. Thank you for this Blessing. Peace on earth and everywhere for all living beings. Aum Namaha Siva Aum! Nam Myoho Renge Kyo! Thank you

Om Tara Tare Tam Svaha
Pnum: 116237
Beloved Isa Mafu, Dearest Ammaji, everyone that joined in the great manifestation of life which I prayed for, has been granted. My beloved sister Micheline, will live and will comeback home in a few days. Thank you Thank you Thank you...from my heart and soul I am so grateful. I pray that this life comes back to all, a thousand fold and touches everyone's Soul, Heart and Spirit for a greater expansion of the love in which we are one. Om Nama Shivaya♥️♥️♥️

Om Tara Tare Tam Svaha
Pnum: 116236
My Beloved One,Mother Lakshmi,Mother Ammaji & all Great Beings of Light.I call to you Now to support my precious friend M.A.& his investors to bring forth the sale of his beautiful equipment allowing this equipment to support humanity by cleaning the air in it's perfect facility. May the buyer be blessed &happy in their purchase May this sale happen quickly &easily Now bringing forth Great Abundance to each investor & to all those calling 4 Abundance SO BE IT INDEED THANKYOULOVE Om Namah Siva Om

Om Tara Tare Tam Svaha
Pnum: 116235
My beloved Father, My divine Mother, I love you. Thank you for my faith and my life. Thank you for all my blessings. I pray to approach everyone and everything with tolerance and compassion in gratitude and joy. I pray to be consistent in my spiritual practices, my lifeline to balance and peace. I pray for balance and peace for everyone everywhere. Thank you thank you thank you. So be it.

Om Tara Tare Tam Svaha
Pnum: 116234
Beloved Isa Mafu, Sweet Ammaji, I pray for a Miracle... to bring the existing perfect heart and body into expression Now, to my so loved sister Micheline. I pray that she discovers within a strong desire for life...that she opens to great dreams to look forward to. She now deserve Health and Ease, Joy and Laughter. She has served the world with so much Dedication and Love. Thank you, Thank you, Thank you. I Love you. Nam Myoho Renge Kyo...💕♥️🧚🏻‍♂️🧚🏻‍♂️🧚🏻‍♂️