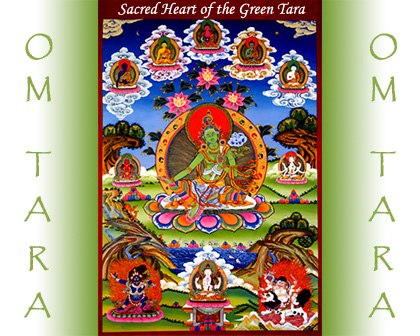 As the Mother of all Healing, the Green Tara shelters All beings in Her Loving embrace and is the Spiritual Bestower of all Health, Upliftment and Well-Being.

The loving embrace of the Goddess Tara radiates outwardly as Kindness, Compassion and Healing for All from worldly or spiritual concerns.

May the powerful blessings of Peace, Health, Wealth and Love be Yours.

May the prayers of all Bodhisattvas and the blessings of all Spiritual Beings enter your heart and hold in their hands all your precious needs. May all your needs be exactly what you intend and may your intentions move in you, from you and return to you with the strength and the power of Living your Life as Divinity Now! So be it!



" May the wicked become good,
May the good obtain peace,
May the peaceful be freed from bonds,
May the free set others free."
- Prayer of a Bodhisattva
Namasté
Om Tara Tare Tam Svaha
Pnum: 116670
Beloved Father I Love You. Thank you for coming tonight for your prayers your later your shakti and presence are a privilege and an honor to be in. In your light Master, I pray for equality consciousness for right medicines clean waters healthy food for all people's of this earth. Aum namah siva aum! Nammyohorengekyo nammyohorengekyo nammyohorengekyo thank you God thank you goddess thank you Guru shalom

Om Tara Tare Tam Svaha
Pnum: 116669
Beloved Guru Dev, Divine Mother Green Tara of swift healing, Blessed Ammaji. I call to you Now to the people & lands of Mexico and specifically Acapulco which has been devastated by Hurricane Otis. Please wrap the sweet souls that have passed in your grace & Love and hold the living in your arms of Love & bring to them all that they need to be comforted. May food & water, warmth & shelter come to them quickly now in your Grace,Sweet Mother, Beloved Guru, Dearest Ammaji Nam Myo Ho Renge Kyo SBI

Om Tara Tare Tam Svaha
Pnum: 116668
Beloved Gurudev, Ammaji, loving angels and guides, M.L., please bless my dear friends Ray T. and Linda B. with the highest possible outcomes. May they be treated with dignity, respect, and compassion. Soften Butel A.'s heart in this, and let Ray and Linda be thoughtfully placed indoors in an ideal setting. Please bless them both with peace of mind, clarity, comfort, and the highest degree of health possible. Thank you.

Om Tara Tare Tam Svaha
Pnum: 116667
My Beloved Mafu, I pray for immediate peace in Gaza and Israel. May all people be safe. May all animals be safe. May they look upon each other and only see family 🙏🙏🙏

Om Tara Tare Tam Svaha
Pnum: 116666
My Most Beloved Master and Goddess, Thank you for the wonderful health your Grace has brought me and all in this temple. I ask once again your Grace of healing. Thank you for being with us and your incredible love. NMRK

Om Tara Tare Tam Svaha
Pnum: 116665
Beloved Father I Love You. I give to you my reputation at futures high. May there be clear and immediate conversations between me and their principal so that the truth may guide our actions forward. So that love honor and respect may be at forefront of our dealings. May all rumors and rumor mongering be evaporated with the strength of Love in your name Sri Gurudev Isa Mafu. I'm getting so sick of the unwillingness to communicate and succumbing to the endorphin rush of the tea. Enough. Nmrk tyJ

Om Tara Tare Tam Svaha
Pnum: 116664
Thank you, Master, Goddess. Thank you! We are so grateful for your presence in our lives, and in our families lives. Thank you that my nephew, Troy,s cancer is limited to his prostate! Hare! Another test will be performed to verify this. Thank for the love and grace you extend to each of us.

Om Tara Tare Tam Svaha
Pnum: 116663
Beloved Isa Mafu I, pray for my special uncle Rudolph who is preparing to Passes over imminently. I ask that all the angels and guides and all who love him, to surround him with light and love and when he passes over he goes to his highest heaven. So be it. With all my love

Om Tara Tare Tam Svaha
Pnum: 116662
Beloved father, I love you. I pray today joining the prayers and chants of all boddhisattwas for peace between Russia and Ukraine. Aum namah siva thank you God guru goddess nammyohorengekyo nammyohorengekyo nammyohorengekyo nammyohorengekyo nammyohorengekyo nammyohorengekyo nammyohorengekyo nammyohorengekyo nammyohorengekyo nammyohorengekyo nammyohorengekyo nammyohorengekyo nammyohorengekyo nammyohorengekyo nammyohorengekyo nammyohorengekyo

Om Tara Tare Tam Svaha
Pnum: 116661
Beloved father, I love you and pray today for immediate peace in Israel and Palestine. Aum namah siva aum thank you God guru goddess. nammyohorengekyo nammyohorengekyo nammyohorengekyo nammyohorengekyo nammyohorengekyo nammyohorengekyo nammyohorengekyo nammyohorengekyo nammyohorengekyo nammyohorengekyo nammyohorengekyo nammyohorengekyo nammyohorengekyo nammyohorengekyo