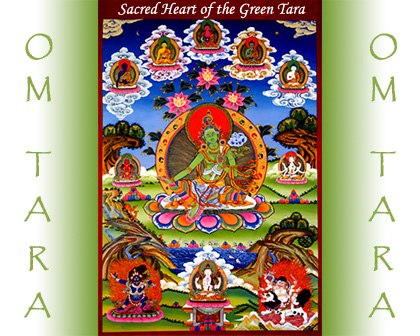 As the Mother of all Healing, the Green Tara shelters All beings in Her Loving embrace and is the Spiritual Bestower of all Health, Upliftment and Well-Being.

The loving embrace of the Goddess Tara radiates outwardly as Kindness, Compassion and Healing for All from worldly or spiritual concerns.

May the powerful blessings of Peace, Health, Wealth and Love be Yours.

May the prayers of all Bodhisattvas and the blessings of all Spiritual Beings enter your heart and hold in their hands all your precious needs. May all your needs be exactly what you intend and may your intentions move in you, from you and return to you with the strength and the power of Living your Life as Divinity Now! So be it!



" May the wicked become good,
May the good obtain peace,
May the peaceful be freed from bonds,
May the free set others free."
- Prayer of a Bodhisattva
Namasté
Om Tara Tare Tam Svaha
Pnum: 116484
Aum Namah Shiva Aum Om Guru,Om Guru,Om Guru,I pray to this New Years for everyone to be healthy young vital, wealthy no more poor on this times for every family and children and everywhere on earth please receive them to your grace and I pray for my foundation to be sustainable financially rich to support any foundation no more suffering for prosperity on earth please receive my prayer Give your Blessing Grace for all of Us to the Divine Heart I Give to you all my insecurities being in my mind.

Om Tara Tare Tam Svaha
Pnum: 116483
Mother Father God, Lord Isa Mafu I pray on this Christmas day that our Swami, beloved Ammaji and her Family and all those she loves receive Blessings and your grace. Thank you Ammaji for all you do for us & the whole planet & thank you for your beautiful Christmas message. I pray for you and for peace on earth and everywhere for all living beings. Thank you, Thank you, Thank you.

Om Tara Tare Tam Svaha
Pnum: 116482
Most Precious Sri Guru Dev Isa Mafu, Divine Most Holy Mother, My Beloved Swami, Ammaji, Elders and Ancestors of the Native American tribes of the peoples of the Pine Ridge Reservation in South Dakota. Sending prayers of relief from storm Diaz. May all peoples of ALL reservations have access to warmth, clean water, good food, and ALL that is needed. Blessed Be our Native American family. Thank You God/Guru/Swami. OmGuruOmGuruOmGuruOm

Om Tara Tare Tam Svaha
Pnum: 116480
My Beloved Father God.Goddess, GuruDev Sri Isa Mafu, Divine Mother Tara, Blessed Ammaji, Please give your Blessing Graces of healing for my niece Heidi K.C, YES! Heidi'medical protocols continue to bring Healing to every cell of her body, esp inside abdomen YES! I see Healing Golden White Light filling her body, and any ill-health shrivels into NoThing. YES! HEIDI IS ALL CLEAR, Filled w Courage Strength Positivity being comforted and supported by her Family. TYGod for her precious Life AumShanti

Om Tara Tare Tam Svaha
Pnum: 116479
Beloved Guru Dev Sri Isa Mafu, thankyou that my daughter Victoria is recovering Well from her hip replacement surgery:YES! she continues to gain strength, mobility, stability & natural balance. YES! Please Guide her to give Attention to other health concerns SOON:Hormones, Thyroid, Adrenals, Healthy Food Choices, Easy Ways to Destress for Restful Sleep. YES! Importantly She establishes a Healthy Relationship w Right Foods YES! A mom can only say"so much"w a grown daughter! TY OM TARA OM OmSHANTI

Om Tara Tare Tam Svaha
Pnum: 116478
Beloved Father God.Goddess, Guru Dev Sri Isa Mafu, please Bless my travels in Safety on ChristmasDay home over Hills and curvy roads, thru the Forests and Mtns, Past Mt Lassen & Mt Shasta & over the Sisikyou Pass that YES! the Roads are Dry & Clear YES! The Weather is Clear and Calm with Sunshine. YES! This drive is Easy, Happy and Comfortable YES! May all traveling during the Holidays arrive safely to their destinations & back Home. Thankyou for all Blessings AumNamahaSivaOm MerryChristmas2ALL

Om Tara Tare Tam Svaha
Pnum: 116477
Beloved Father I Love You. Today and all days I pray for peace on earth and everywhere for all living beings. I pray for the strength and the courage to manifest 67 million dollars my Guru, my Swami, myself and all those who will. So that I have a financial freedom to do what I want when I want with who I want in your Light Master Sri Gurudev Isa Mafu, Today and always. To sustainable, stable, healthful longevity, sustainable stable financial wealth and sustainable stable spiritual awakening!

Om Tara Tare Tam Svaha
Pnum: 116476
Aum Namat Shiva Aum Dear Beloved Father I pray for peace and calming for everyone on earth and everywhere.Please let me be in Gratitude for my life and all life around me and everywhere let me surrender at your Lotus feet and take everything from my ego.I Love you Mafu you are so Magnificent Love imbibe every cell of my body to your pur Love. Let everyone on this time on Earth to be compassion and peace, happiness and joy I really want this for everyone Mafu.I love you Mafu Aum Namah Shiva Aum

Om Tara Tare Tam Svaha
Pnum: 116474
Divine compassionate mother, St. Francis, Lord Isa Mafu, I pray for the lives of every single unhoused person out in the cold tonight, many of whom are dressed inadequately for being out in the 27° weather predicted to hit 24° tonight. I also pray for the life of the black kitty stuck in its fenced in yard with no visible shelter from the cold and nobody home. Thank you. NMRK NMRK NMRK.

Om Tara Tare Tam Svaha
Pnum: 116473
Another prayer of profound gratitude for the passing of the Respect of Marriage act! YES! Thank you President Biden! Thank you Senator Tammy Baldwin! Thank you amazing Nancy Pelosi! Thanks to all who made this happen! Yes! LOVE is all that matters regardless of gender, creed, religion, race! Yes! We are One! SO BE IT! In our GURU'S Grace! AUM NAMAHA SIVA AUM! AUM NAMAHA SIVA AUM! AUM NAMAHA SIVA AUM!