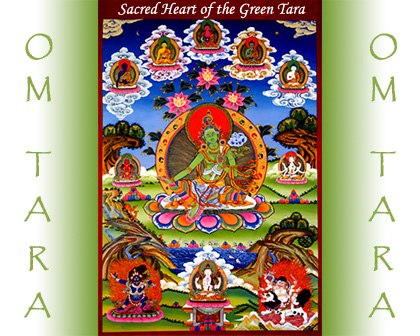 As the Mother of all Healing, the Green Tara shelters All beings in Her Loving embrace and is the Spiritual Bestower of all Health, Upliftment and Well-Being.

The loving embrace of the Goddess Tara radiates outwardly as Kindness, Compassion and Healing for All from worldly or spiritual concerns.

May the powerful blessings of Peace, Health, Wealth and Love be Yours.

May the prayers of all Bodhisattvas and the blessings of all Spiritual Beings enter your heart and hold in their hands all your precious needs. May all your needs be exactly what you intend and may your intentions move in you, from you and return to you with the strength and the power of Living your Life as Divinity Now! So be it!



" May the wicked become good,
May the good obtain peace,
May the peaceful be freed from bonds,
May the free set others free."
- Prayer of a Bodhisattva
Namasté
Om Tara Tare Tam Svaha
Pnum: 116566
Beloved Father, Divine Blessed Mother, Great Spirit that lives within each of us, my Beloved Mafu and Blessed Ammaji, please give prayers of peace and blessings to Mafu's beloved disciple David D, who is approaching his time of transition from this planet. May he blessed with grace and ease. May he know how loved he is. All those he has touched are better off that he has come. In gratitude.

Om Tara Tare Tam Svaha
Pnum: 116565
Beloved Mafu, Dearest Ammaji, Lord Jesus Christ &All High Holy Beings Guide & Bless Dr Kadi-Ann Bryan &her team at Providence Hospital in the easy successful removal of my kidney to bladder stent Friday, May 19th, 9-10am. May the release of my remaining 2mm kidney stone &the healing of my Kidney/bladder inflammation be easy swift &complete. May All Living Beings w/Kidney/Bladder issues receive a complete healing of inflammation &all imbalances. NMRK NMRK NMRK w/Sincere Gratitude TY TY TY TY TY

Om Tara Tare Tam Svaha
Pnum: 116564
Beloved Father I Love You. Please surround Brian Ancheta with your healing light. Nammyohorengekyo nammyohorengekyo nammyohorengekyo May the magnetic healing powers of Lord Jesus Christ surround and enfuse him with healing white light. Nammyohorengekyo nammyohorengekyo nammyohorengekyo May the lump in his throat immediately dissolve. May his air ways be immediately open and clear. May his health return to now as it was before healed healthy and strong! Thank you God Thank You Jesus!!!

Om Tara Tare Tam Svaha
Pnum: 116563
Beloved Father I Love You. Thank you for your grace in blessing the people of Serbia. Thank you for the immediate response of peace from the people of Serbia. I honor and acknowledge the never upon so many to turn in their firearms. To choose piece amongst their community instead of ego driven armory. Thank you for choosing life for choosing peace. Aum namah siva aum. Thank you God. Thank you goddess. Thank you, guru.

Om Tara Tare Tam Svaha
Pnum: 116562
I want to express my sincere Gratitude 🙏 &Love 💕 to our Beloved MAFU & Ammaji for chanting &loving me &creating a blessed Chant for my surgery &my healing. I love you 💕 I am also Grateful to Paula for bringing light to my situation & for her love & to Everyone who prayed or chanted for the healing of my body. I AM truly honored by it All. I love you w/ALL my Heart 💜 & Soul💕 Thank you Thank you Thank you Thank you Thank you 🙏Nam Myoho Renge Kyo 🙏Nam Myoho Renge Kyo 🙏Nam Myoho Renge Kyo

Om Tara Tare Tam Svaha
Pnum: 116561
Beloved Lord, Blessed Ammaji I pray for Vivian C who had an aortic procedure, that she has a rapid and easy healing. I pray for all who have had heart procedures to have perfect surgeries and easy, rapid healing. Om shanti.

Om Tara Tare Tam Svaha
Pnum: 116559
Aum Namat Shiva Aum O Lord Sri Isha Mafu thank you so much for my lovely Raja thank you thank you thank you. My prayer it's for everyone I am so Grateful to be alive thank for your Love Mafu wow what a magnificent Lord you are please let me embrace your wisdom. I pray for everyone to know you and don't know you to be and love and peaceful I am so happy for my life Mafu I am so grateful to be whit you Mafu and I want that for everyone hear and now I love you Mafu Aum Namah Shiva Aum

Om Tara Tare Tam Svaha
Pnum: 116558
Most beloved Mafu, Ammaji, Jesus, Buddha, Green Tara, & precious Ancestors: Please guide & bless all doctors, staff & medical procedures currently helping Diana K to reduce inflammation & control pain, including proper management of her temp bladder stent, so that she may soon have surgery to pass a large kidney stone. May she be infused with peace & strength as her successful healing unfolds & may she feel the love & joy of her aliveness along the way. So be it & So It is Done. Thank you God.

Om Tara Tare Tam Svaha
Pnum: 116557
I want to thank You with all my heart. Thank You. Thank You. Thank You. And please, show me the Way, Goddess, with this next decision. Show me the Perfect, Right Place for me. And come with Me on this lovely Journey. Mafu, I love You for always being patient with me, especially when I am not patient with myself. I thank you for helping me to talk to my mind and tell it "Hey, my Mind, please be kind to me now" And then my mind is kind to me. Thank you. I Love You.

Om Tara Tare Tam Svaha
Pnum: 116554
Aum Namat Shiva Aum I pray for my lovely Raja please Mafu keep him safe to is new gipsy experience happy life like we have together safe life I am so sad to lose him please Mafu protect my lovely boy and I pray for all animal need your love and protection thank you so much I am so grateful experience life with him I love Raja I love you Raja baby boy Aum Namat Shiva Aum