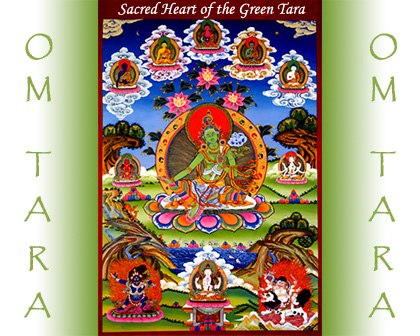 As the Mother of all Healing, the Green Tara shelters All beings in Her Loving embrace and is the Spiritual Bestower of all Health, Upliftment and Well-Being.

The loving embrace of the Goddess Tara radiates outwardly as Kindness, Compassion and Healing for All from worldly or spiritual concerns.

May the powerful blessings of Peace, Health, Wealth and Love be Yours.

May the prayers of all Bodhisattvas and the blessings of all Spiritual Beings enter your heart and hold in their hands all your precious needs. May all your needs be exactly what you intend and may your intentions move in you, from you and return to you with the strength and the power of Living your Life as Divinity Now! So be it!



" May the wicked become good,
May the good obtain peace,
May the peaceful be freed from bonds,
May the free set others free."
- Prayer of a Bodhisattva
Namasté
Om Tara Tare Tam Svaha
Pnum: 115916
Most Beloved Guru and Blessed Goddess, and healing Dieties, Please surround Phylis with healing of an open wound on her right knee. She was hospitalized for three weeks and had surgery to assist and is now finally back home. Please give her strength, desire to heal, and freedom from pain. Thank you for your care and love for Phylis and those who care for her.

Om Tara Tare Tam Svaha
Pnum: 115915
Beloved father I love you on this day and all days Goddess guide me. Goddess guide me Goddess guide me like the ocean blessing the heavens and blessing the earth with abundance Goddess guide me to spring forth new life filled with beauty filled with grace filled with your eternity goddess guide me in your compassionate unconditional love for all living beings Aum Tara Aum Wanataka Aum Quan Yin Aum Mary Aum Aum Aum in the grace of my guru in the grace of God in the grace of the goddess to life

Om Tara Tare Tam Svaha
Pnum: 115914
Beloved father I love you. This day is yours do with it what you will I am yours do with me what you will this day and all days are yours do with them what you will in your grace master may there be peace on earth and everywhere for all living beings may there be peace right here in my life in this house in this city with my family and my spiritual family peace in the public peace on planes peace for all living beings. So be it Aum Santi Santi Santi Thank you Guru Thank you God Nammyohorengeqyo

Om Tara Tare Tam Svaha
Pnum: 115912
Beloved Lord, blessed Ammaji, Medicine Buddhas, I enter here to pray for my dear friend Joelle and her 21 month old son Atticus who was exposed to a child who has tested positive for COVID. I pray for their immune systems to fight the virus, for them to receive All Clears. I pray this for all exposed to COVID, for the development and approval of vaccines for the world's children and the cessation of the pandemic. I pray that all embrace the importance of being vaccinated for our global community

Om Tara Tare Tam Svaha
Pnum: 115911
Beloved Lord, Blessed Ammaji, thank you for the precious time with Ammaji and our spiritual family to celebrate Ammaji's birthday and to revisit her sanyas. What a blessing! God bless Ammaji's devotion to her Guru and her path. Thank you, thank you, thank you! Om shanti

Om Tara Tare Tam Svaha
Pnum: 115910
In the loving grace of my beloved Sri Isa Mafu and the magnetic healing power of Lord Jesus Christ, I pray for the family of my nephew Devin. I pray for their little boy Lucien, to find peace and safety, for his mother Emily, to accept and receive the perfect psychiatric treatments that will help her find emotional joy and balance . I pray for Devin to have the courage to take the necessary steps to save his family from harm. So be it! So it is done! Thank you God!

Om Tara Tare Tam Svaha
Pnum: 115909
Thank You for uplifting all families in need of healing, stability and assistance. I pray for little Lucien to feel safe in his home, for his mother Emelie to say yes to the psychiatric help she needs, for his father Devin to accept that his wife needs help before tragedy happens. Please help this precious family heal. I pray this for all families in need and for all children to be protected and safe, and for those who notice children in peril to get them help. Thank You God. Nam Myoho Renge Kyo

Om Tara Tare Tam Svaha
Pnum: 115908
I pray for peace on earth and everywhere for all living beings. Please send miracles of aid to all nations who need political stability, economic stability, healthy food for all, medical aid for all, safe housing, good jobs and pay, health, freedom, peace. i pray for the people and animals of Haiti, of Afghanistan, of Yemen, of Syria, of Central America, South America, North Korea, our world. Please help us end the virus, and get vaccinations for all. So be it, thank You God.Nam Myoho Renge Kyo

Om Tara Tare Tam Svaha
Pnum: 115907
Thank You for blessing our Foundation with sustainable financial wealth and 67 million dollars. Thank You for our many wonderful donations that bless us with all we need and more to share. Thank You for blessing Ammaji with strength, swift perfect healing, comfort in her body, deep healing sleep, prayers answered to their highest potential, great happiness and sweet peace of mind. Please bless OTS with protection, safety, peace, health and joy. Thank You God. Nam Myoho Renge Kyo.

Om Tara Tare Tam Svaha
Pnum: 115906
Beloved father I love you! Thank you for a wonderful birthday sapta with Ammaji! What a blessing to spend time chanting and meditating and laughing with your daughter our Swami! Thank You God Thank You Goddess Thank You Guru Nammyohorengeqyo Nammyohorengeqyo Nammyohorengeqyo Nammyohorengeqyo Nammyohorengeqyo Nammyohorengeqyo Nammyohorengeqyo Nammyohorengeqyo Nammyohorengeqyo Nammyohorengeqyo Nammyohorengeqyo Nammyohorengeqyo Nammyohorengeqyo Nammyohorengeqyo Nammyohorengeqyo Nammyohorengeqyo