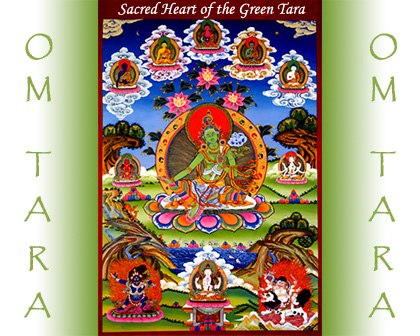 As the Mother of all Healing, the Green Tara shelters All beings in Her Loving embrace and is the Spiritual Bestower of all Health, Upliftment and Well-Being.

The loving embrace of the Goddess Tara radiates outwardly as Kindness, Compassion and Healing for All from worldly or spiritual concerns.

May the powerful blessings of Peace, Health, Wealth and Love be Yours.

May the prayers of all Bodhisattvas and the blessings of all Spiritual Beings enter your heart and hold in their hands all your precious needs. May all your needs be exactly what you intend and may your intentions move in you, from you and return to you with the strength and the power of Living your Life as Divinity Now! So be it!



" May the wicked become good,
May the good obtain peace,
May the peaceful be freed from bonds,
May the free set others free."
- Prayer of a Bodhisattva
Namasté
Om Tara Tare Tam Svaha
Pnum: 115247
May the Hands of the Holy Divine Mother and Beloved Father pour water upon on the Worthington fire about 5 miles NE of Eagle Point, Oregon. Approximately 150 acres in size is burning this Thursday evening. I pray for the wind to cease and for the fire to be extinguished easily and swiftly now! May all life and property be safe and the firefighters be protected! Thank you Beloved Guru God Goddess for protection now! Nam Myoho Renge Kyo, Nam Myoho Renge Kyo, Nam Myoho Renge Kyo.

Om Tara Tare Tam Svaha
Pnum: 115246
Om Guru Om~Please show us the Way, Goddess, Guru Dev Sri Isa Mafu. Help Jill F and I to find the Way to bring Marcus home to Aus to be reunited with his precious Mumma. Please remove any blocks in the way. Show us the highest Way, Mafu. I request Divine Intervention for the Highest Good NOW! Nam Myoho Renge Kyo. Nam Myoho Renge Kyo. Nam Myoho Renge Kyo.

Om Tara Tare Tam Svaha
Pnum: 115245
Beloved Father God, Sri Isa Mafu, Blessed Ammaji, please shower your Healing Blessings on Ashley Comier to heal the "twist break" of her Right Leg that is set w steel rod & pins. Yes. Ashley' bones knit & heal well. Yes. Ashley recovers swiftly & comfortably. Yes. Ashley relaxes into the healing process & her family of 6 children becomes more self sufficient.Yes. NamMyohoRengeKyo NamMyohorengeKyo NamMyohoRengeKyo Thank you God for all Blessings for Ashley & her family. Aum Guru Om

Om Tara Tare Tam Svaha
Pnum: 115244
My Beloved Father God, my Beloved Lord Isa Mafu, Blessed Ammaji, please grant your Healing Blessings for my cousin Tim Thomas, with squamous cancer of the larynx. Yes.One of the protocols, alt. Natural Healing Ctr. LA or std at Stanford, brings Healing Now.Yes. Tim' Larynx is ALL CLEAR & he speaks comfortably in his Natural Voice. Yes.Tim enjoys a long Happy Healthy Life w his beautiful family & grandkids.Yes. NamMyoho RengeKyo NamMyhoRengeKyo NamMyohoRengekyo TYGod SoBeIt.So IT IS Done Aum Guru

Om Tara Tare Tam Svaha
Pnum: 115243
Beloved Father, my beloved Guru Isa Mafu, Blessed Ammaji, please bless my cousin & friend~Rosemary K. Armstrong, almost 96, who passed peacefully this morning, as she is received by the God she Loves, Lord Jesus, & Mother Mary. May her children Robert, Maureen, Jeannie & Bill & their families & Rosemary' many grandchildren find peace in their hearts & lives. Wise Loving, Caring, Mother & Friend to many will be missed.She carried me around when I was a baby NamMyohoRengeKyo Love you Rosemary SBI

Om Tara Tare Tam Svaha
Pnum: 115242
Beloved Father I Love You. Please surround Ammaji in your loving and healing grace. And a blessing and magnetic healing powers of Lord Jesus Christ fill every cell in her body now may she be comforted and surrounded by all of who she loves. May her body be now as it was before long and lean while stretched and healed, young youthful vital and strong. So be it in your grace shreeisha Mafu Om namah Shiva. Thank you thank you thank you. Sad Guru nath Maharaj ki Jay

Om Tara Tare Tam Svaha
Pnum: 115241
God bless our precious, cherished SWAMI Ammaji! I pray and chant with conviction and love for Ammaji's gentle, easy healing to ABSOLUTEL health NOW AND ALWAYS! YES! Ammaji is blessed with sustainable healthful longevity, sustainable financial wealth, sustainable spiritual awakening! YES! Ammaji is filled with happiness, joy and peace NOW AND ALWAYS! YES!Thank you Ammaji for your Seva, for the blessing of the beautiful inspiring Darshans of our beloved GURUDEV SRI ISA MAFU! To LIFE! HUM SAU!

Om Tara Tare Tam Svaha
Pnum: 115240
Om Tara Om, Om All Great Healing Deities, let it be Now...for our Beloved Precious Swami, Ammaji.....that her healing is effortless and easy and comfortable in every way, as she Now receives her perfect and complete healing. So It Is Done, Thank you God!

Om Tara Tare Tam Svaha
Pnum: 115239
My Most Beloved Mafu, Precious Beloved Ammaji, I pray with all of my heart with deepest compassion for you Ammaji and pray to Our Mother, Our Father for your swift and easy healing Now and Allways as you are filled with the powerful White Light of Reiki of the Highest Love. I see you healed as you were before and are again at your very best ever. I see this as done and So It Is! May you know how very loved and supported you are. So Be It! NMRK NMRK NMRK NMRK NMRK ❤🙏❤

Om Tara Tare Tam Svaha
Pnum: 115238
Beloved Loving God my Guru Dev Sri Isa Mafu I pray that you comfort our dearest Ammaji in her suffering from a concussion. Please lend skills to the hands of her healers. Walk closely beside her during her journey to recovery that I know is possible through Your Power and Grace. May each new day brings Ammaji closer to a full recovery! NamMyohoRengeKyo NamMyohoRengeKyo NamMyohoRengeKyo ThankYouGod.Guru So Be It!!!