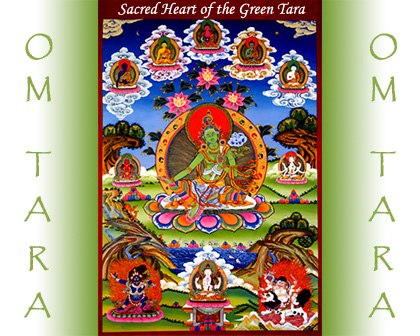 As the Mother of all Healing, the Green Tara shelters All beings in Her Loving embrace and is the Spiritual Bestower of all Health, Upliftment and Well-Being.

The loving embrace of the Goddess Tara radiates outwardly as Kindness, Compassion and Healing for All from worldly or spiritual concerns.

May the powerful blessings of Peace, Health, Wealth and Love be Yours.

May the prayers of all Bodhisattvas and the blessings of all Spiritual Beings enter your heart and hold in their hands all your precious needs. May all your needs be exactly what you intend and may your intentions move in you, from you and return to you with the strength and the power of Living your Life as Divinity Now! So be it!



" May the wicked become good,
May the good obtain peace,
May the peaceful be freed from bonds,
May the free set others free."
- Prayer of a Bodhisattva
Namasté
Om Tara Tare Tam Svaha
Pnum: 115493
My Beloved Father God, BelovedMafu, WanaTanka Tungashila, White Buffalo Calf Woman, Blessed Swammi, I call All Heavenly Powers & Graces to Protect the SacredWaters*Mni Wiconci* of N.Minn to Superior Wis, to STOP pipeline#3 being pushed thru by Canadian co.Enbridge. This lgArea of pristine Waterways, Lakes, WildRice & migration Marshes is IMPT as Waters of America & World, like Amazon RainForest. I SEE your Hands Father that bring Ways to STOP Line#3 NOW Pls Protect these Sacred Waters TY Aho Aum

Om Tara Tare Tam Svaha
Pnum: 115492
Beloved Mafu, Dear Ammaji, this morning I come to ask your blessings and prayers for our sweet angel sister, Claire who is now in hospital and been advised that her liver is the most affected by cancer cells.Chemo will start immediately. I/We pray that the treatment, along with the power of your prayers and intent, bring perfect healing and cleansing throughout her body that we may be blessed by her presence in our lives for a very long time.With profound thanks and deep love, Francis

Om Tara Tare Tam Svaha
Pnum: 115491
My Beloved FatherGod, Mother Goddess i join Helene & Francis in prayer for the complete healing of her sister. that she is here & now HEALED in every cell of her precious body & every cell is bathed in White Light, What does not serve Healthy Life shrivels & dries up. YES! every cell is Purified in White Light. i give thanks for her Healing & Rejuvenation & that others with similar illness move into Complete Healing now. Thankyou God for All graces & blessings NanMyohoRengeKyo AumGuru Amen

Om Tara Tare Tam Svaha
Pnum: 115490
Blessed Ammaji, i thank you on this your Sanyas Day for all Blessings your bringing Mafu all these years to be with us, so Loving a Gift. Thank you for All that you do for us in the Discipleship and in the World. so Beautiful an evening Celebrating your Sanyas. i pray your day has been filled with Graces and Beauty too.Filled with Appreciation & Gratitude Hare OM..Hare OM..Hare OM.Shante Siva.Shante Guru.Hare Om..Om Mane Padme Om..Om Mane Padme Om..OM Mane Padme Om..OM Namah Sivaya OM Namaste

Om Tara Tare Tam Svaha
Pnum: 115489
On Guru Om~I pray with all my heart for an abundantly healthy, happy, spiritually awakening New Year 2021 for all human beings. May we spread only kindness, may we treat each other with respect, may we want only dignity for all animals, may we desire peace above all else. May we fall into harmony forever more with the natural rhythms of our earth, our oceans, our planets, our universe. May we awaken to want to give and receive only kindness. Thank you. Nam Myoho Renge Kyo. 🙏❤️🙏

Om Tara Tare Tam Svaha
Pnum: 115488
Of Thanks giving and reverence for our cherished SWAMI Ammaji on this Sacred day of the 31st Anniversary of her Sannyas. For the blessing to honor and celebrate our SWAMI from our home Temples this evening. God bless you always dearest Ammaji, our Leader, our Sister, our Friend! May you and all you love be blessed with health, wealth and awakening! May all Leaders of the Light be likewise blessed and may all see the Light! Thank you GURU DEV SRI SRI SRI ISA MAFU! AUM SANTI SANTI SANTIH AUM!

Om Tara Tare Tam Svaha
Pnum: 115487
Most Beloved Isa Mafu and precious Ammaji, I pray for the highest unlimited healing power of God and ask for your assistance in the healing of my dearest sister Claire. That all invading cancer cells be now dissolved and transmuted into light, into life, peace and joy. I pray that Francis and I, be guided to the highest in supporting her in her healing and well-being. Thank you God, So be it, It is done. Nam Myoho Renge Kyo. Nam Myoho Renge Kyo...NMRK...

Om Tara Tare Tam Svaha
Pnum: 115486
My Beloved Mafu Ammaji all High Holy Beings &all Disciples I am thrilled to share that the nuclear cardiac stress test I under went today was successful and without incident. Hopefully, I will have the results by the end of the year. Thank you with all my heart to God, Mafu Ammaji all my Angels All High Holy Beings &my brother &sister disciples. May you all be Blessed w/Peace as I have &may all people w/heart issues receive Grace &Joy& Healing of the Highest. Nam Myoho Renge Kyo x3 Thank you x5

Om Tara Tare Tam Svaha
Pnum: 115485
I pray for the easy transfer of power in the USA

Om Tara Tare Tam Svaha
Pnum: 115484
Beloved Mafu sweet Ammaji All High Holy Beings I call you forth to guide my Cardiac Nuclear chemical Stress test tomorrow Wed 12/23, 8:45am-2pm at Rogue hospital-For recent symptoms of possible heart attacks. May All involved incl. Dr Nathan Funk (cardiologist) be guided to create the highest level of compassionate care. May all people seeking healing for their hearts physical/emotional receive the same guidance and Grace. Nam Myoho Renge Kyo x3 Thank you x5