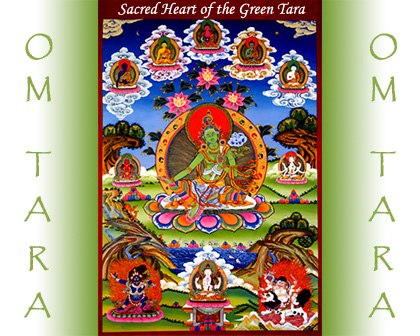 As the Mother of all Healing, the Green Tara shelters All beings in Her Loving embrace and is the Spiritual Bestower of all Health, Upliftment and Well-Being.

The loving embrace of the Goddess Tara radiates outwardly as Kindness, Compassion and Healing for All from worldly or spiritual concerns.

May the powerful blessings of Peace, Health, Wealth and Love be Yours.

May the prayers of all Bodhisattvas and the blessings of all Spiritual Beings enter your heart and hold in their hands all your precious needs. May all your needs be exactly what you intend and may your intentions move in you, from you and return to you with the strength and the power of Living your Life as Divinity Now! So be it!



" May the wicked become good,
May the good obtain peace,
May the peaceful be freed from bonds,
May the free set others free."
- Prayer of a Bodhisattva
Namasté
Om Tara Tare Tam Svaha
Pnum: 116284
Blessed be I pray in gratitude that our dear Patricia K. is in loving kind car with her family in California and very much enjoying her drink of choice - an iced tea! May Patricia be held in the Grace of Love and Peace always SO BE IT! Thank you thank you thank you thank you thank you

Om Tara Tare Tam Svaha
Pnum: 116283
Beloved Father, Blessed Divine Mother, Beloved Lord Sananda Jesus, Beloved Lord Isa Mafu 💗I love You💗 Please Bless Beloved Patricia K on her way home to You. Thank You Dear Patricia for your generosity and kindness💗 Blessings of much Love to You💗Nam Myoho Renge Kyo Nam Myoho Renge Kyo Nam Myoho Renge Kyo

Om Tara Tare Tam Svaha
Pnum: 116282
Beloved FatherGod, Sri GuruDev Isa Mafu, Blessed Ammaji, Green Tara, Quan Yin, the Magnetic Healing Powers of Lord Jesus Christ, i give profound Gratitude for the healing that my niece Heidi K.C. experienced in Chemo. she passed thru 1st chemo challenges to have her numbers drop from 900to 200! YES!THANKYOU! Now after chemo rnd2 june 3rd, she is feeling Warrioress Strong~eating, vacuuming, lifting sml weights to rebuild muscle YES! THANKYOU! Please shower Heidi w blessings of Complete Healing OM

Om Tara Tare Tam Svaha
Pnum: 116281
Beloved Father, Sri Isa Mafu, Blessed Ammaji, please grant your blessings for Grandmother Buddhi Maya (Aama) of Nepal, passed June7,2022. Aama is one of 13 International Grandmothers who dedicate their lives to the upliftment of Humanity & All Life on Earth. May she fly to the Light as the Love and Light she Is. Thankyou Ama for all you have done here on Earth for Peace On Earth.NamMyohoRenge kyo.NamMyohoRengeKyo.NamMyohoRengeKyo Thankyou for your Blessings AMEN AUM Om Shanti Shanti Shanti

Om Tara Tare Tam Svaha
Pnum: 116280
Please keep my friend Bruce's daughter Marina in your prayers. She is currently at home experiencing symptoms of Covid, even after having had her vaccinations. Thank you ,Tony

Om Tara Tare Tam Svaha
Pnum: 116278
Blessed be our beautiful sister of this Way Patricia Kester. Thank you so much for all your thoughtful loving ways. I have such fond memories of you so easily welcoming me. Thank you for your care of the Sun Temple. Thank you for the birthday calls and checking in on me. Bless you precious Sister. Free now from the body, May you Fly into your Highest Heaven as LOVE and PEACE SO BE IT ! Blessed be your family with strength and comfort. Thank you Goddess I love you Louise

Om Tara Tare Tam Svaha
Pnum: 116277
I pray for Ukraine and the people of Ukraine. May those who are still in their country find strength and courage & away to survive. May those who have left find the help that they need and the courage to be in foreign countries. I especially pray that something happens that compels Putin to pull all of his forces out of Ukraine. I pray for peace on earth and everywhere for all living beings. Nam Myoho Renge Kyo, Nam Myoho Renge Kyo, Nam Myoho Renge Kyo, Nam Myoho Renge Kyo

Om Tara Tare Tam Svaha
Pnum: 116276
Mother Father God, Lord Isa Mafu I pray for all those who have passed by gun violence especially the children in Texas, Buffalo, and all those again this weekend. May they be in their highest heaven with their God and may all parents, family & friends somehow find peace & comfort. May our legislators find the courage to do something to help stop all this harm through guns and pass gun safety laws. May there be peace in all hearts and a desire to respect the preciousness of life. Thank you.

Om Tara Tare Tam Svaha
Pnum: 116275
Aum Namah Shiva Aum My Beloved One Sri Guru Isha Mafu I pray for peace on earth and everywhere for all living beings always peace,peace,peace,gentle compassion for all. Mafu my love please guide me to walk in your footprint and the purest magnificent love you are thank you so much for being in life and chose me please keep me to at your lotus feet and surrender my self to your heart to continue pray for peace on earth and everywhere for all of us always Love is the source of my existence.

Om Tara Tare Tam Svaha
Pnum: 116274
Aum Tara Aum~ May my precious little fur-son, Simba, continue his happy, outrageously joyful merging into the Light he Is As Love. May he fly so high into the reflection of Love He Is and then beyond that still into greater expansion of Love, Happiness, Strength, Courage, Compassion, Peace & Joy! I am always with you, my precious Forever Friend. I love you beyond words, my little soul mate. We are One. Keep journeying in peace my Love. Nam Myhoy Renge Kyo. Nam Myoho Renge Kyo. Nam Myoho Renge K