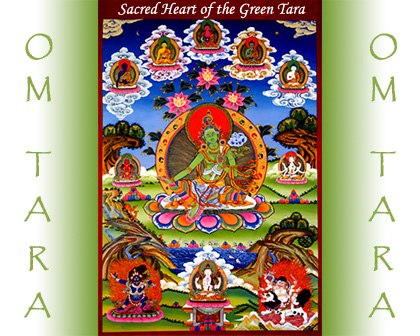 As the Mother of all Healing, the Green Tara shelters All beings in Her Loving embrace and is the Spiritual Bestower of all Health, Upliftment and Well-Being.

The loving embrace of the Goddess Tara radiates outwardly as Kindness, Compassion and Healing for All from worldly or spiritual concerns.

May the powerful blessings of Peace, Health, Wealth and Love be Yours.

May the prayers of all Bodhisattvas and the blessings of all Spiritual Beings enter your heart and hold in their hands all your precious needs. May all your needs be exactly what you intend and may your intentions move in you, from you and return to you with the strength and the power of Living your Life as Divinity Now! So be it!



" May the wicked become good,
May the good obtain peace,
May the peaceful be freed from bonds,
May the free set others free."
- Prayer of a Bodhisattva
Namasté
Om Tara Tare Tam Svaha
Pnum: 115308
God bless and protect all at our beloved Paramatman Dharma and everywhere. May the rain be plentiful to extinguish all fires and smoke. May the winds be still. God bless and protect all firefighters with such gratitude and respect for their service. May all be safe, healed, healthy and happy everywhere. God bless our cherished SWAMI Ammaji always! Thank you GURUDEV SRI SRI ISA MAFU! AUM NAMAHA SIVA AUM! NAM MYOHO RENGE KYO! NAM MYOHO RENGE KYO! NAM MYOHO RENGE KYO!

Om Tara Tare Tam Svaha
Pnum: 115307
I pray that the fire near Howard Prairie becomes totally contained soon and that it is easily extinguished completely. May all life (human & animal) be safe & protected. May Paramatman Dharma and all residents and animals there be safe, protected & not need to evacuate. May rain come without wind or lightening. I pray this for all fires here & in California and for the people & animals there. Thank you, God. Nam Myoho Renge Kyo, Nam Myoho Renge Kyo, Nam Myoho Renge Kyo, Nam Myoho Renge Kyo

Om Tara Tare Tam Svaha
Pnum: 115306
May the hand of the Holy Divine Mother and Beloved Father pour water upon the fire 1 mile North of Howard Prairie Lake. The Grizzly Creek Fire is estimated at 300-350 acres. This is about 4 miles close to Paramatman Dharma. I pray for the wind to cease and for the fire to be extinguished easily and swiftly now! May all life and property be safe and the firefighters be protected! Thank you Beloved Guru God Goddess for protection now! Nam Myoho Renge Kyo. Om Namah Shiva Om!!!

Om Tara Tare Tam Svaha
Pnum: 115305
I pray for peace on earth and everywhere for all living beings. Please heal America, Russia, Mexico, Yemen, Syria, Central America, South America, No.Korea, Afghanistan, Africa, all countries. I pray for all, pure water, healthy food, right medicine, safe shelter, clean air, justice, forgiveness, equality for all races, all women, protection for children, compassion for animals, protection and healing for our planet, our oceans, our world. So be it. Thank You God. Nam Myoho Renge Kyo.

Om Tara Tare Tam Svaha
Pnum: 115304
Thank You for hearing our prayers and removing donald trump from our whitehouse. I join with so many in prayers for Joe Biden and Kamilla Harris to win the election in november. Thank You for Joe Biden as our new president. Thank You for protecting our election process and allowing everyone to vote easily and safely. Thank You for saving our democracy and blessing us with Joe Biden as our new president who will help us heal and fix all that has been broken. Thank You God. Nam Myoho Renge Kyo.

Om Tara Tare Tam Svaha
Pnum: 115303
Thank You for blessing our Foundation with sustainable financial wealth and 67 million dollars. Thank You for our many wonderful donations that bless us with all we need and more to share. Thank You for blessing Ammaji with strength, swift perfect healing, comfort in her body, deep healing sleep, prayers answered to their highest potential, great happiness and sweet peace of mind. Please bless OTS with protection, abundance, safety, health, peace and joy. Thank You God. Nam Myoho Renge Kyo.

Om Tara Tare Tam Svaha
Pnum: 115301
My beloved Father Devine most Holy Mother our Beloved Isa Mafu &all High Holy Beings Please bless &pray for our kind hearted disciple &friend Louise Hughes as she meets the challenges of her respiratory condition. May she feel the calm &peace she deserves. May she feel &know the Love that she IS &the Love God has for her. Thank you Thank you Thank you Thank you Thank you. Nam Myo Ho Renge Kyo Nam Myo Ho Renge Kyo Nam Myo Ho Renge Kyo We love her dearly. She has opened the door to Mafu to many.

Om Tara Tare Tam Svaha
Pnum: 115300
Om Guru Om~Thank you for helping my friend ET in Greece. She now has employment with an amazing, kind boss. Thank you for looking after our families and friends. I pray for everyone's success in securing paid employment where they are happy, well paid and valued members of their team. Thank you.

Om Tara Tare Tam Svaha
Pnum: 115299
I have cried many tears during this time on the planet and the disasters that have swept this nations and all around the world. My heart and my tears I join for all of us that pray for peace and tranquility. Yesterday evening our 10 month old puppy had fallen in the pool. She is our daughter. Gypsy has given myself and my husband so much and Love Light and joy. We haven't stopped grieving. I ask you to join me in praying to draw her back to us when we search for a new puppy.

Om Tara Tare Tam Svaha
Pnum: 115298
My Beloved Mafu, I ask for prayers for my friend Frank. He has open heart surgery, and has been on dialysis for 20 years and now has developed macular degeneration and losing his central vision. May the rest of Frank's life is easy, pain free and filled with love and support. May he easily be able to talk with his mom whom he can't visit. May Frank know he is loved by many and has uplifted many lives. May that bring him peace.