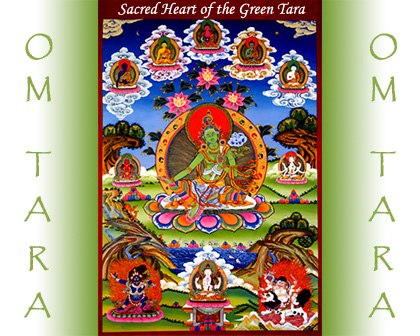 As the Mother of all Healing, the Green Tara shelters All beings in Her Loving embrace and is the Spiritual Bestower of all Health, Upliftment and Well-Being.

The loving embrace of the Goddess Tara radiates outwardly as Kindness, Compassion and Healing for All from worldly or spiritual concerns.

May the powerful blessings of Peace, Health, Wealth and Love be Yours.

May the prayers of all Bodhisattvas and the blessings of all Spiritual Beings enter your heart and hold in their hands all your precious needs. May all your needs be exactly what you intend and may your intentions move in you, from you and return to you with the strength and the power of Living your Life as Divinity Now! So be it!



" May the wicked become good,
May the good obtain peace,
May the peaceful be freed from bonds,
May the free set others free."
- Prayer of a Bodhisattva
Namasté
Om Tara Tare Tam Svaha
Pnum: 115894
Beloved Father🙏I pray for my dear cousin💗Eugene. May he know peace as he is nearly at the end of his battle with cancer. He had hoped to see his daughters before he passes over. Please hold him in your loving arms at this time, so he doesn't feel alone without all the people that love him. Thank You Father, I Love You 💗

Om Tara Tare Tam Svaha
Pnum: 115892
We pray for the Soul of Dorina F to fly high into the Loving Arms of Jesus Christ, her Lord and Savior. Thank you, Dorina, for your example of kindness, gentle manner, and generosity of spirit. We pray that your loving family be surrounded by their High Holy Angels and cradle them in Comfort and Peace. We will miss you and we love you. NMRK

Om Tara Tare Tam Svaha
Pnum: 115891
Aum Namah Shiva Aum Mafu I pray for Melanie's mum that she can find peace in her commitment just before Melanie die. Can keep her promises with Melanie and Andre if you please Debie and Joe please remember your promise before she dies she ask you please stay in peace and have compassion in memory of Melanie I love you Dear Melanie I am really so sorry for their suffering of the separation please let them come peaceful Heart I forgive them I forgive Andre thank you so much compassion & Peace

Om Tara Tare Tam Svaha
Pnum: 115890
I pray and ask for prayers for my dear friend C.G. May all her healing angels and guides direct and guide her and ensure that the truth is revealed gently and safely. She deserves the best. May she be strong and may her situation improve immediately and in joy. NAM MYOHO RENGE KYO NAME MYOHO RENGE KYO NAM NYOHO RENGE KYO

Om Tara Tare Tam Svaha
Pnum: 115889
In Mafu's eternal Love and Compassion, I pray for Andre V. André, Mafu loves you so much and he has your beloved Melanie in His arms. I pray for your peace of mind and that you know that the love you have for her will never die. It will always be alive in your heart. Give yourself time to grieve peacefully. She is so close to you and so alive on the other side. I pray this for all those who have seen someone they love travel to heaven. Om Namah Sivaya

Om Tara Tare Tam Svaha
Pnum: 115888
Beloved Father I Love You. Please surround Cindy Mohler in your loving arms. May her throat cancer be healed healed healed! Here and now in the magnetic healing powers of Lord Jesus Christ. May Cindy be healed now! Yes, we see Cindy with an immediate All Clear diagnosis and the pain in her swallowing is healed now, YES! Thank you God thank you Goddess thank you Guru.Aum Namah Siva Aum

Om Tara Tare Tam Svaha
Pnum: 115887
Aum Namah Shiva Aum Mafu I pray for my love Melanie Valliere that I love being in her Husband the separation I have it's so pain full I pray to forgive my self & Melanie for this suffering and separation she will always have a very special beautiful place in my heart it is very difficult to live this separation I love you my love. I pray to find emotional peace balance in me and find in my mind Compassion and peace happiness and joy I Love you always Sat Guru Mafu My love Aum Namah Shiva Aum

Om Tara Tare Tam Svaha
Pnum: 115886
My Beloved Please hold Andre close. May he feel your love and guidance and strength. May Andre find the right support to help him with his grief. May he find his way to some peace and forgiveness. Bless you Andre you are such a beautiful soul. Nammyohorengekyo Nammyohorengekyo Nammyohorengekyo So this is True So this is DONE ! SO BE IT !

Om Tara Tare Tam Svaha
Pnum: 115885
Aum Namah Shiva Aum My lovely father I appeal to you today to help me feel free of my self from the suffering in my attachment with my Love Melanie I feel so torn and sad please help us.Melanie receive the Healing passage to the other side Of Universe I call from the Lord God of my being heal us of our experience of separation from our human experience Mafu I Love you help me please and help Melanie on your side I am Surender at your Lotus feet give you all my pain I fell Aum Namh Shiva Au

Om Tara Tare Tam Svaha
Pnum: 115884
please keep my friend Bruce Kramer in your prayers. He has suffered two dizzy spells and will be going to see his doctor tomorrow. Thank you.